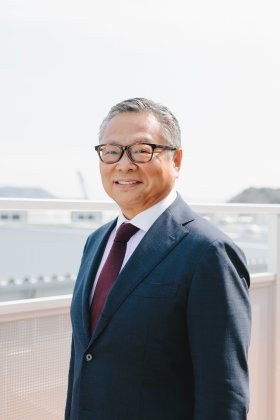 In order to achieve our long-term goal of becoming No.1 worldwide in the lifting equipment industry, the Tadano Group will combine the collective strengths of all Tadano Group companies and, under the concept of One Tadano, synchronize group management while also pursuing the global optimization of our production system to create the maximum possible synergy effect as a group.
As the shift to clean energy is accelerating around the world, the Tadano Group has declared its goal of achieving Net Zero Carbon Emissions by 2050 and we are working to reduce CO2 emissions by setting long-term environmental targets.
One of our major initiatives is the ongoing development of the world's first electric rough terrain crane with zero CO2 emissions, which can work and travel on electric power. We aim to start commercializing this environmentally friendly product in 2023.
The Tadano Group's vision is "Pursuing Further Excellence for the World and the Future." Through this pursuit, we contribute to the development of local and international communities, and we advance business activities that help protect the global environment. We also seek to maximize our corporate value in response to the expectations of all of our stakeholders.