Tadano Ltd. is happy to announce that the GR-1000XL/800EX, a large-scale rough terrain crane for markets outside of Japan that began production in 2011, has achieved the milestone of 1000 units produced and sold.
1. History from introduction to 1000 units produced
The GR-1000XL/800EX is a large-scale rough terrain crane that serves as one of Tadano's flagship models. During its initial sales year, 2011, the Great East Japan Earthquake cut off a large part of the supply chain for Tadano and its suppliers, and this resulted in a temporary shut-down of our rough terrain crane assemble line. Unfortunately, there were many customers to whom we were unable to deliver the ordered models on the promised timeline due to this incident.
Thus, the GR-1000XL/800EX was introduced to the market under chaotic circumstances. However, it has come to have a reputation for its reliability, high quality, and environmentally friendly performance, especially in energy development jobsites (mainly in North America, the Middle East and Russia) and mining jobsites (mainly in South America, Australia, and South Africa), places where harsh environmental circumstances, often make it difficult to replace cranes experiencing down time. Also, despite huge fluctuations in the exchange rate of the Japanese yen, which often has a negative impact on exports from Japan, sales of the GR-1000XL/800EX remained high and customer response was extremely positive. After the exchange rate stabilized and became more favorable due to the weaker yen, GR-1000XL/800EX production accelerated, and we achieved the milestone of 1000 units produced/shipped within the outstandingly fast period of 4 years. The 1,000th machine will be shipped to Tadano America Corporation in Houston, Texas
(Note: Our shipment forecast at introduction was 200 units per year)
2. Shipping Ceremony
Koichi Tadano, President and CEO of Tadano Ltd. made a speech that began by looking back to 2011, the beginning of GR-1000XL/800EX production. He said "The Great East Japan Earthquake cut off Tadano's supply chain, which caused a one-time shut down of our assembly line at Shido Plant. However, our customers relying on us from far away overseas and waiting long periods of time for the delivery of our products, as well as our employees who used all of their effort to reply to the demands of those customers, have both overcome that crisis to arrive at this day of commemoration."
After his speech, a Japanese-style prayer ceremony for product safety and success was held, and the 1000th machine started on its way to the U.S. with a ribbon-cutting ceremony preformed by the company officers of Tadano and staff from the Research and Development Division and Production Division directly in charge of this model. A large number of Tadano employees gathered in attendance celebrated the departure of the 1000th machine with applause and cheers.
3. Primary Features of the GR-1000XL/800EX
(1) One of the highest boom capacities in class
This model features a rounded boom made of lightweight high-strength, high-tensile steel. This makes for one of the longest booms in class in addition to excellent lifting capacity.
(2) Environmental issues duly taken into account
As a means for dealing with environmental issues, this model features environmentally friendly functions, such as a fuel monitoring system, an eco-mode system (fuel consumption reduction from engine speed adjustment during crane operation), and a positive control system (fuel consumption reduction from hydraulic pump displacement restrictions during engine idling).
(3) Information communications system (Hello-Net Service)
This model is equipped standard with an information communications system (Hello-Net Service) which enables customers to remotely check and manage operating date and a record of maintenance of their cranes over the Internet via mobile devices and satellite communications. This system offers valuable assistance to our customers for crane operation and management.
(4) Safety device of proven reliability
Ahead of our overseas competitors, Tadano developed its AML safety monitoring system to feature asymmetric outrigger extension control, make maximum lifting capacity available for each configuration, and ensure that the safety controls could never be turned off. All of this makes for a safety device that can be trusted by our customers.
4. Main Specifications
Specifications for Crane
GR-1000XL
GR-800EX
Max. Lifting Capacity
100 US t x 8 ft
80 t x 3.0 m
Max. Lifting Height
(Boom)
154.5 ft
47.1 m
(Boom + Jib)
211.3 ft
64.4 m
Max. Working Radius
(Boom)
135.0 ft
41.2 m
(Boom + Jib)
177.0 ft
53.9 m
Boom Length
39.4 ft- 154.2 ft
12.0 m - 47.0 m
Jib Length
33.2 ft/58.1 ft
10.1 m/17.7 m
Specifications for Carrier
| | GR-1000XL | GR-800EX |
| --- | --- | --- |
| Overall Length | 47' 2" | 14,375 mm |
| Overall Width | 10' 10-1/2" | 3,315 mm |
| Overall Height | 12' 5-3/8" | 3,795 mm |
5. Photo Attachments:
(1) Photo from the 1000th machine's Shipping Ceremony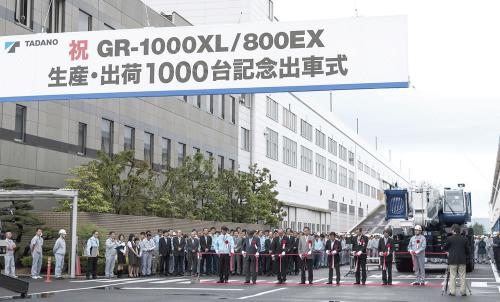 (2) Product photo