A new model with reinforced safety functions and improved work efficiency
Tadano Ltd. (Head Office: Takamatsu city, Kagawa prefecture, Japan; President: Toshiaki Ujiie) will launch the "TM-ZX1200 Series" truck loader crane for international market, featuring a maximum lifting capacity of 12 metric tons, a maximum crane capacity of 22 t・m, and a maximum boom length of 16.0 meters.

【Product details page】https://www.tadano.com/businesses/products/LC/TM-ZX1200/index.html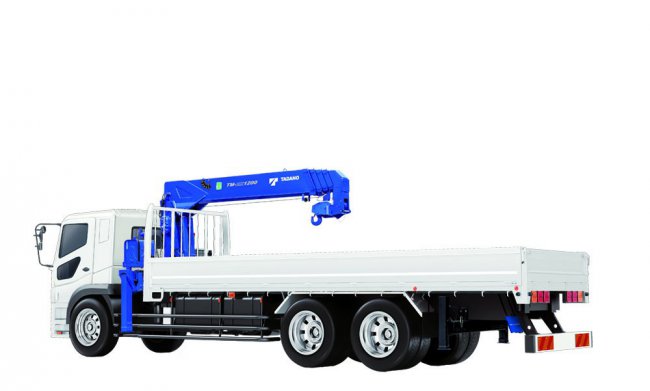 Development Concept
We have expanded the lineup to meet a wide range of customer needs by adding a product with a maximum lifting capacity of 12 metric tons, a maximum crane capacity of 22 t・m, and a maximum outrigger extension width of 5.5 meters. In addition to manual (MH) specification, HRS/HS specifications that include an advanced overload prevention device are also available. The Tadano safety systems that we have developed in products for the Japanese domestic market are now being introduced in products for markets outside of Japan where safety awareness is getting higher, for safer and more efficient work.

Features
- Full range of safety systems
The standard HRS and HS specifications include the Safety Eyes system equipped with a function which monitors changes in stability caused by changes in the truck bed load conditions during crane operation. This allows operation with maximum performance according to the load conditions.
Safety is further improved by the "AML (Automatic Moment Limiter, overload prevention device)" that monitors and controls the crane operation status and restricts or stops operation according to the moment load ratio based on the rated load, as well as the "Jack Interlock Function" that disables crane operation when outrigger jacks are not in contact with the ground, and the "Working height limit device" that automatically stops the boom when it reaches the preset height.
The standard HRS specification also includes a color LCD radio controller which displays the lifted load and provides other functions that deliver further advances in work safety and efficiency.


- Basket mode
The AML in the standard HRS specification includes basket mode. In addition, a basket mounting support that allows a basket to be installed without removing the hook block is available as an option. This enables safe work in an elevated height and improves the universal utility of the crane.

Overview
Product name: TM-ZX1200 Series
Products models: TM-ZX1205HRS / TM-ZX1205HS / TM-ZX1205MH
Produced in: Japan

Main Specifications
Max. Lifting Capacity
12,000 kg × 1.6 m
Max. Crane Capacity
8,800 kg × 2.5 m
Boom Length
4.48 m - 16.00 m
Boom Angle
0 - 80°
Outrigger Extension Width
Maximum 5.5 m, middle 3.9 m, minimum 2.2 m
Tadano Ltd. Introduction
Tadano Ltd. developed Japan's first hydraulic truck crane in 1955, and has led the industry as a leading company in construction cranes. We are always striving to develop products that meet the needs of the times and aim to become the world's number one in the LE (Lifting Equipment) business. With the acquisition of Faun GmbH in 1990 and the Demag brand crane business in 2019, we are committed to further globalization.
By developing products and conducting business activities that contribute to the development of local and international communities and help preserve the global environment, we aim to meet the expectations of all our stakeholders and become a company that pursues "Further Excellence for the World and the Future".

[Corporate profile]
Corporate Name: Tadano Ltd.
Head Office: Ko-34 Shinden-cho, Takamatsu, Kagawa, 761-0185, Japan
Representative: President and CEO Toshiaki Ujiie
Established: August 24, 1948
URL:https://www.tadano.com/
Business areas: Production and sale of products including construction cranes, truck loader cranes, and aerial work platforms

[Contact for inquiries regarding this release]
Marketing Dept., Tadano Ltd.
e-mail:marketing.communications@tadano.com

News and Press Releases Archives