Tadano lifts presence with the wind power generation sector at Wind Energy Expo in Tokyo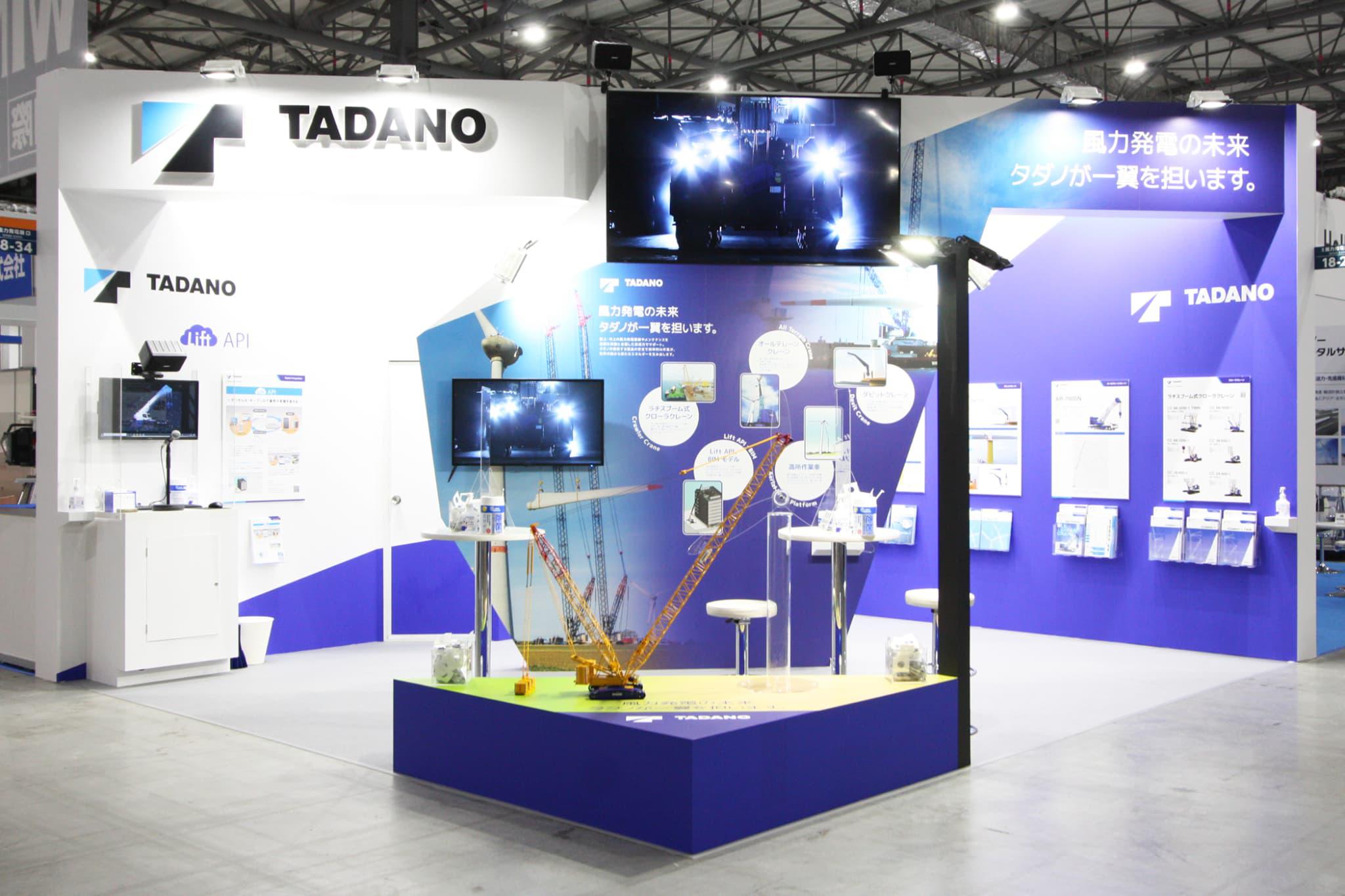 Wind power increasingly plays a key role in renewable, "smart" energy for the future. Tadano's lifting technology can play a key role in allowing for the construction and maintenance of wind turbines.

Opportunities to advance both roles converged at the Wind Energy Expo, part of World Smart Energy Week held at Tokyo's Big Sight Aomi Exhibition Hall September 29th through October 1st, 2021. Over three days, the Wind Expo convened wind power experts and engineers from across Japan, including many representatives of the Japan Wind Power Association (JWPA).

Tadano has not traditionally been involved in the business sector of wind power generation. However, the recent acquisition of Demag has allowed the company to offer more products for customers in this rapidly growing sector.

Tadano opened an exhibition booth at Wind Expo to showcase these products, reach customers, and create connections. Company representatives met with numerous attendees at their exhibition booth, including members of crane rental companies, general contractors, wind turbine manufacturers, wind power generation companies, even national and local government officials.

The Expo served as an excellent opportunity to establish relationships and ensure attendees properly understood how Tadano's products work for the construction and maintenance of wind power generation. This includes construction and ongoing maintenance of both onshore and offshore wind turbines at any height – both in Japan and overseas.

For example, crawler cranes are useful at base ports to help meet the increased demands and planning for offshore wind power. Akita, Noshiro, Choshi, and Kitakyushu carry current designations as base ports for offshore wind power, with the expectation for additional designations to help achieve carbon-neutral targets as set by the government.

As goals for domestic procurement of wind power parts increases – along with increasing size of equipment – Tadano offers the larger cranes domestic factories need to manufacture heavy objects such as monopile foundations.

Tadano introduced and provided detailed information on numerous products at the Expo, including:


Six models of Lattice boom type Crawler Cranes, active in pre-assembly bases for offshore wind power generation and onshore wind power construction. In increasing capacity order, they included:



The CC 24.400-1/ CC 2400-1, with a maximum lifting load of 400t


The CC 28.600-1/ CC 2800-2, with a maximum lifting load of 600t


The CC 38.650-1/ CC 3800-1, with a maximum lifting load of 650t


The CC 68.1250-1/ CC 6800-1, with a maximum lifting load of 1,250t


The CC 88.1600-1/ CC 8800-1, with a maximum lifting load of 1,600t, and


The CC 88.3200-1 TWIN/ CC 8800-1 TWIN, with a maximum lifting load of 3,200t


The two largest crane models drew significant levels of interest, as few units have been delivered in Japan thus far but their potential – particularly for wind-related projects – was well-documented.



The AR-7000N and 5500M All Terrain Cranes, which are active in the construction and maintenance work of onshore wind power generation. The new model AR 7000N features a maximum lifting capacity of 700t, the highest for machines made in Japan.


The Davit Crane, a smaller model currently under development that will handle cargo, indispensable for offshore wind power generation equipment. People showed strong interest in the Davit Crane, particularly among those wishing to raise the domestic procurement rates of construction machinery. The Davit crane is being developed in order to withstand the harsh environment.


The AT-530CG and AW-370TG Aerial Work Platforms. The new model AT-530CG features a maximum ground clearance of 52.8m; the AW 370TG with a maximum ground clearance of 37.4 m. Both are active in the maintenance work of wind power generation.


The Lift API / BIM model of Tadano's main line of construction cranes that work with Lift API on Autodesk® Revit® was also introduced. Due to COVID restrictions, the person in charge provided a live presentation remotely from Kagawa.


Yuji Hirai, manager of Japan Sales Planning and Promotion Department at Tadano, reported that numerous valuable contact points with various wind power generation stakeholders were created, nurturing both sales opportunities and good public relations.

Hirai described Wind Expo as the first step in truly building Tadano's presence in the wind power generation industry. "With this exhibition as a foothold, we will strengthen sales and services and lead to product development so that we can play a more important role in the wind power industry," he said.

The Wind Expo is one of the seven key exhibitions within World Smart Energy Week, the world's largest comprehensive exhibition of energy, including technologies, products, and services in advanced fields like wind power, as well as solar, biomass, storage, hydrogen, and fuel batteries.

Attendance during the September show was 25,494, higher than expected. Two more shows will take place in 2022, providing additional opportunities for Tadano and its goals to serve the wind power generation market: March 16th through 18th again at Tokyo's Big Sight, and August 31st through September 2nd at Makuhari Messe.

Discover more about Tadano's wind power capabilities here (Japanese):
https://www.tadano.co.jp/products/wind-power/

Information about World Smart Energy Week (English):
https://www.wsew.jp/en-gb.html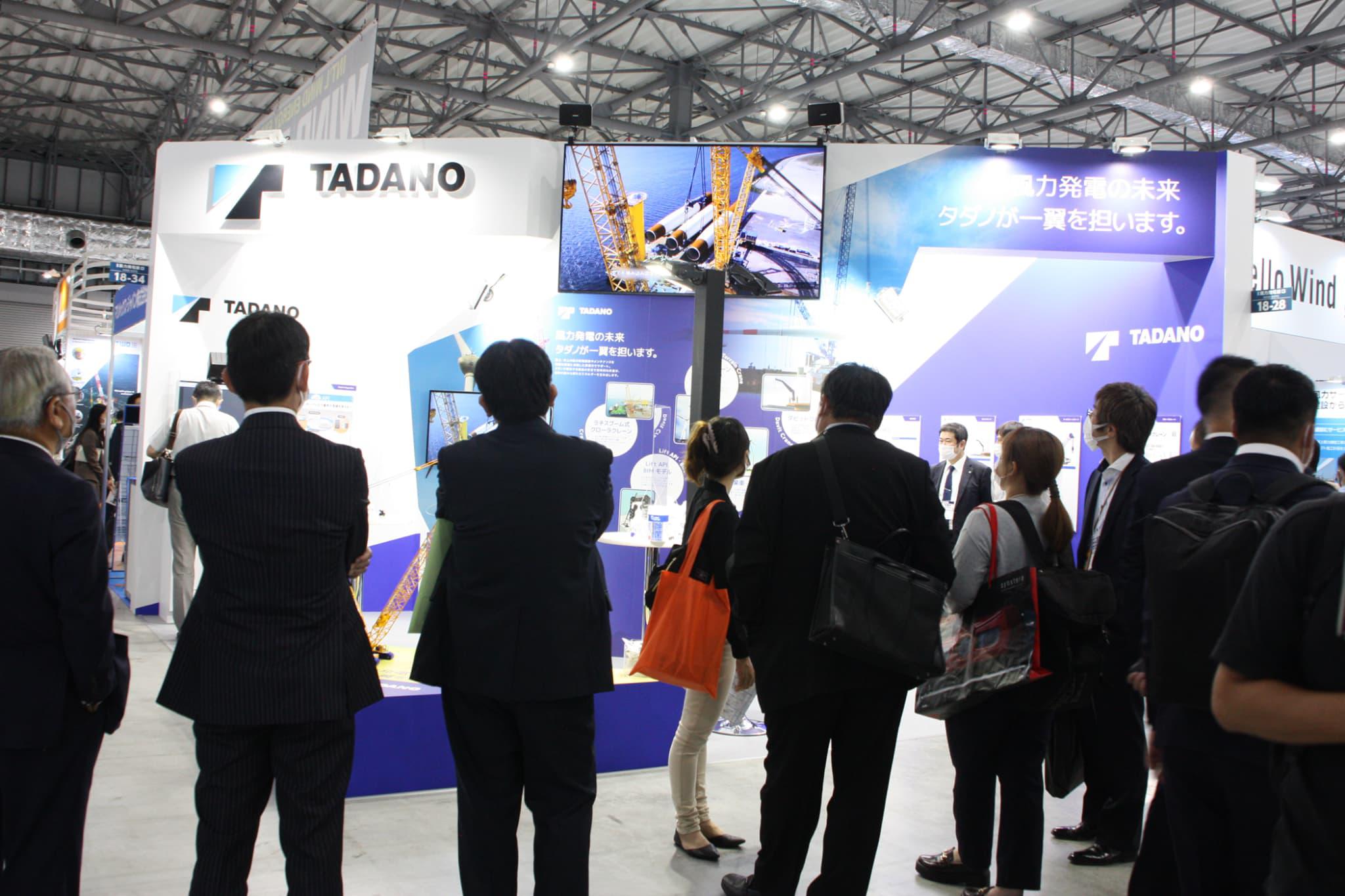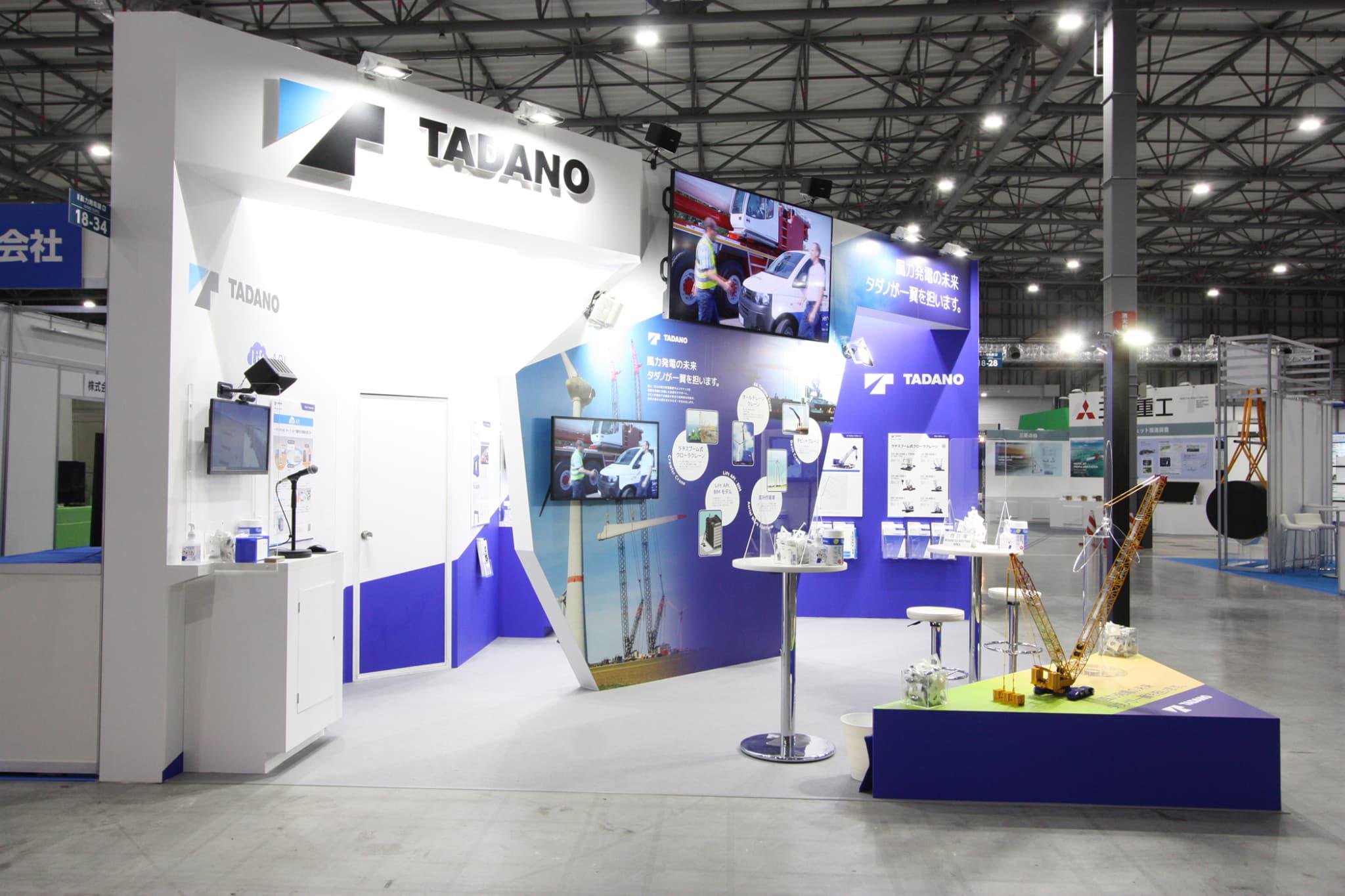 Related topics