Tadano debuts new TM-ZX1205HRS Loader Crane in Thailand, announces Saha Crane Auction Co., Ltd. as TM Dealer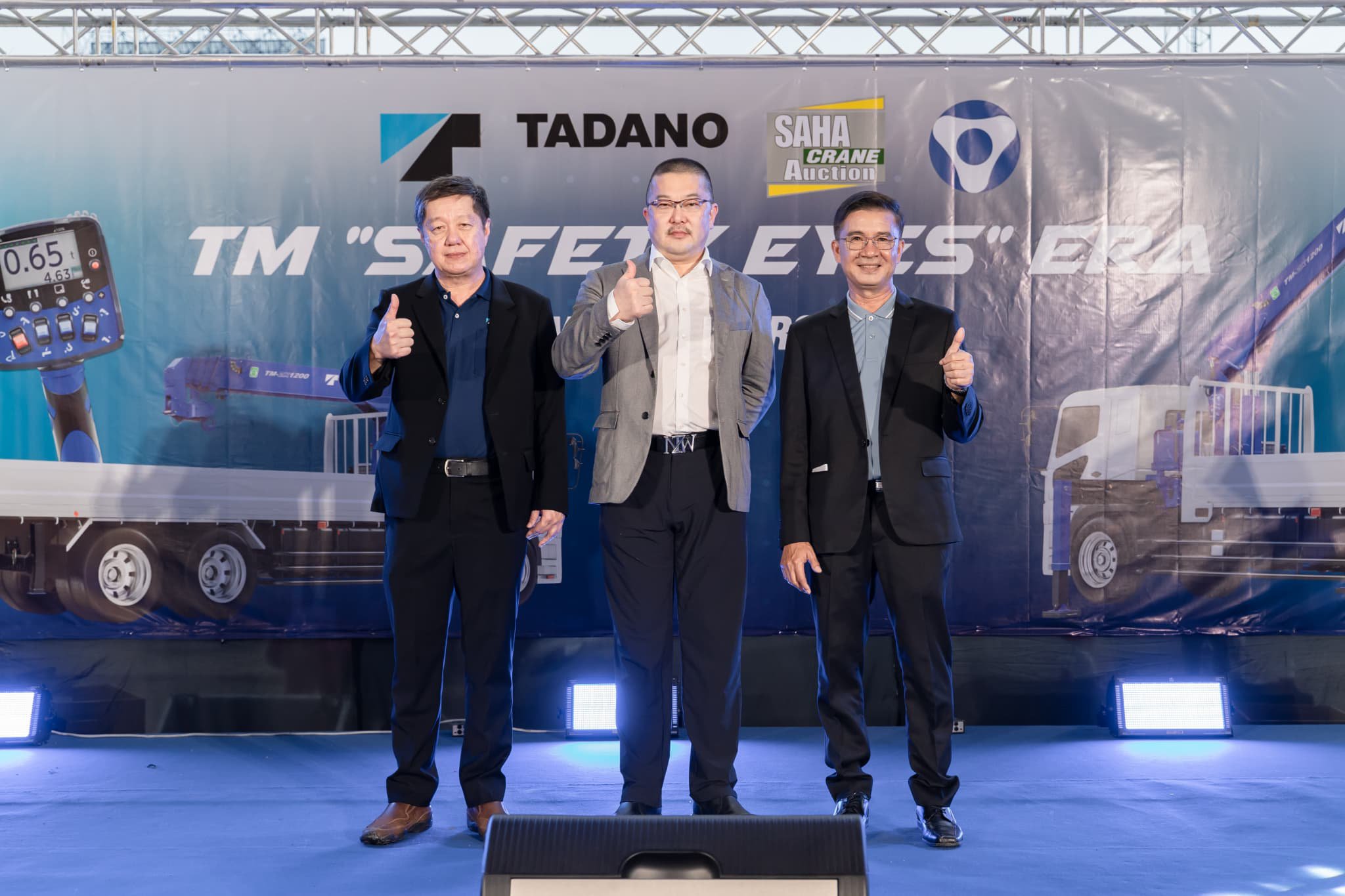 Mr. Somkieat Jiviriyawat, Executive vice president of Tadano Italthai Co., Ltd., Mr. Shigeki Nozawa, Managing Director of Tadano Italthai Co., Ltd., and Mr. Pramote Sanitwaja, Chief Executive Officer of Saha Crane Service Co., Ltd., celebrate introducing the TM-ZX1205HRS loader crane at Saha Crane Auction
The new TM-ZX1205HRS loader crane is set to boost sales among construction, transportation, and logistics companies. Tadano Italthai, the importer and distributor of Tadano-branded cranes and lifting equipment for Thailand and LAO PDR, unveiled and demonstrated the crane at Saha Crane Auction Co., Ltd., in November.

Mr. Shigeki Nozawa, Managing Director of Tadano Italthai Co., Ltd, presided over the crane models' introduction in the Thai market, one of Tadano's largest for Truck Mounted (TM) cranes.

"Following Thailand's reopening, we believe that public and private infrastructure projects will soon resume. As the leader in TM crane market in Thailand, I proudly would like to inform you that we are launching the NEW Truck-Mounted crane model TM-ZX1205HRS," Mr. Nozawa told the approximately 100 people in attendance. "This is a 12-ton capacity crane with the intelligent and the latest safety system so-called "Safety Eyes" built in Japan."

The 12t maximum lifting capacity is a completely new range for a Tadano TM crane, bridging the gap between the 10t/15tm TM-ZX1000 and 15t/30tm TM-ZX1500 series models.

The TM-ZX1205HRS is one of three models in Tadano's new TM-ZX1200 series. Like its accompanying HS and MH models, the TM-ZX1205HRS achieves a maximum outrigger width of 5.5m and a maximum crane capacity of 12,000kg x 1.6m (22tm), the largest in its class. Wide outriggers coupled with increased capacity greatly improve its lifting performance compared with previous models in the same class.

The "Safety Eyes" system referenced by Mr. Nozawa is one of many state-of-the-art technological and safety innovations developed by Tadano. AML with "Safety Eyes" provides a greater degree of vision and control for the operator. It monitors overload momentum during work and warning/stops once momentum is reached 100%; it also reduces lifting capacity during low truck cargo load activity to avoid tipping over. The HRS models add a color LCD radio remote controller that displays the lifted load, which allows changing of the operation position even when visibility is poor in the conventional operation position.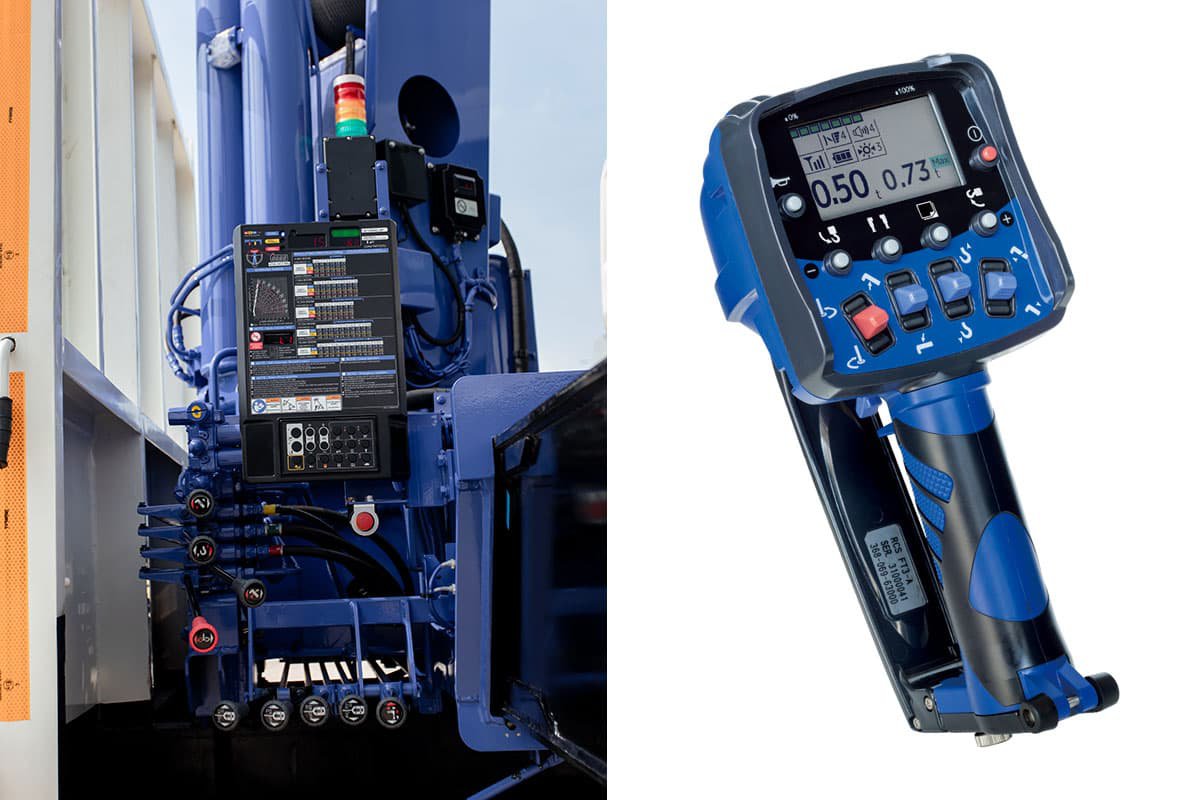 The AML Safety Eyes panel on the TM-ZX1205HRS and the color LCD radio remote controller
The MH model features more economic specifications designed to appeal to a wider range of customers. MH models include "Hook-In" and anti-two-block device functionality; all models in the TM-ZX1200 series feature Tadano's legendary quality and reliability.

Mr. Nozawa continued to showcase the new crane's features to the audience, saying "We also equipped the TM-ZX1200HRS with a basket mode and a support mount for the basket at the tip of the boom so that it can be used for aerial work. The wider outrigger width also leads to a larger working radius in basket mode."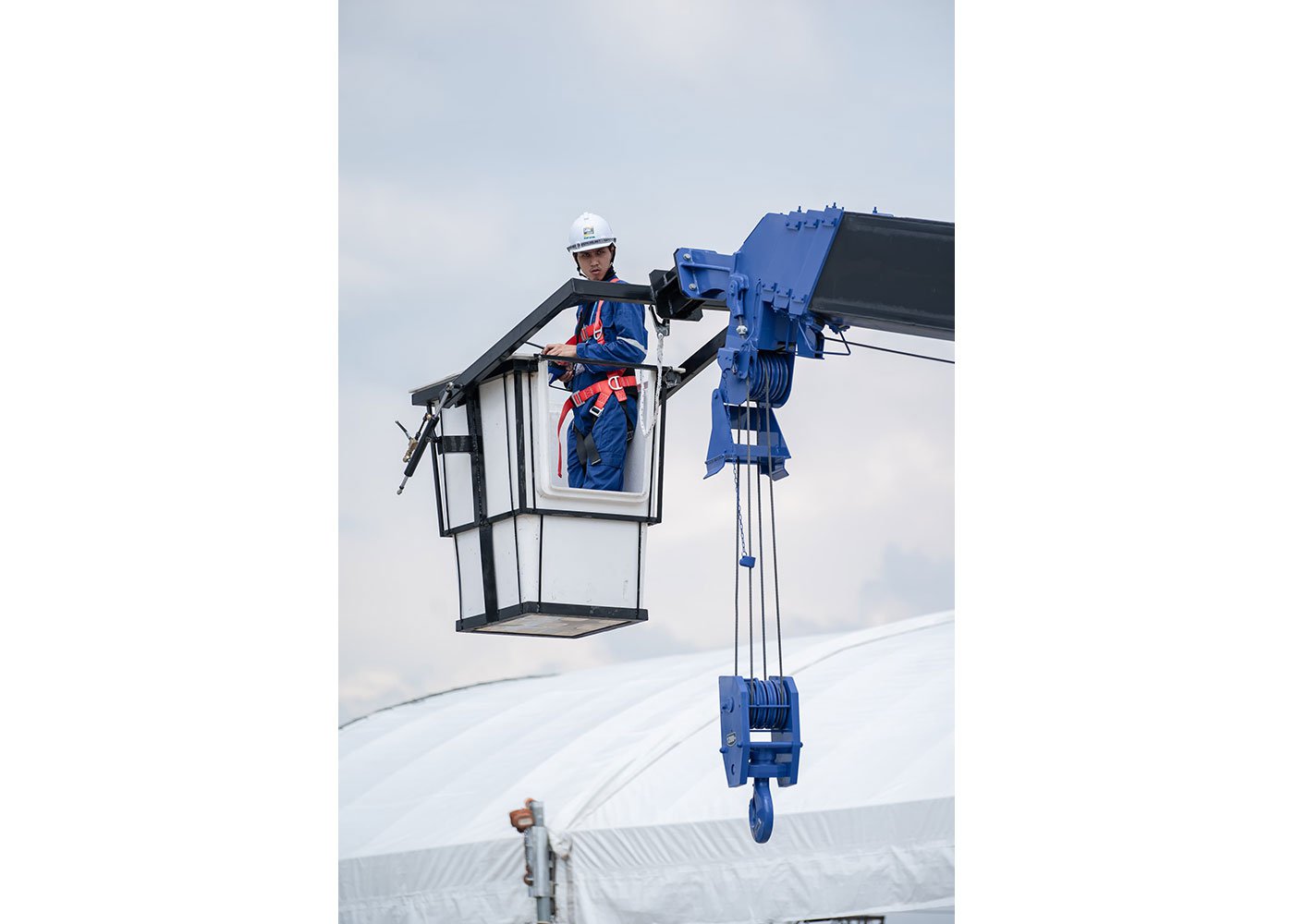 TM-ZX1200HRS with a basket mode
Mr. Somkieat Jiviriyawat, Senior Vice President of Tadano Italthai Co., Ltd, added that TM-ZX1205HRS was designed accordingly to Tadano's core value that underpins "Safety, Quality, Efficiency" and highlighted its versatility.

"The Tadano crane can be mounted on all large-size trucks and all models that carry Japanese, European, US, or Chinese brands. The lift height can be adjusted to fit the operating site, for example in buildings or tunnels. It is also equipped with an alarm system when unsafe issues are spotted, to help reduce possible accidents. Meanwhile, the basket mode is added on, in line with safety standards," he said.

"These features can help a variety of our customers, not only in construction but also logistics, transportation, rental, advertising, and more to make their jobs more efficient, and complete them with tremendous safety," Mr. Nozawa added.

Nearly 50 companies were represented across the attendees, including members of Thai crane industry association PCA (Professional Crane Association) and Saha Crane's customers, which encompass construction, industrial waste disposal, and rental companies along with general contractors.

Mr. Nozawa explained the reason Thailand was selected for the TM-ZX1205HRS launch: "Currently, the TM crane market in Thailand is considered the largest in ASEAN; it is expected to keep expanding with supportive factors, economically and geographically. Plus, we believe 'Safety' would be the key factor in ASEAN. We believe the TM-ZX1205HRS will continuously raise demand for TM cranes."

Mr. Nozawa also specified why Saha was selected for the introduction: "Tadano Italthai Co., Ltd. has just appointed Saha Crane Auction Co., Ltd. as TM Dealer, which would be the main partner under the market expansion and receive the opportunity for mega-investment projects for us."

Saha Crane Auction Co., Ltd. was created in 2011 as a subsidiary of Saha Crane Service Co., Ltd., which already had a stellar 20-year record serving over 1,000 construction companies and builders. They offer the latest amenities for customers looking to acquire cranes and other heavy machinery along with other materials for the construction industry with nearly 64,000 acres of an exhibition and workspace for cranes and other equipment. Their location in Rayong as well as neighboring Chonburi – about 54km from Bangkok – is close to numerous petrochemical plants and other industrial facilities, making the area promising for sales of HRS models equipped with state-of-the-art safety features.

Mr. Pramote Sanitwaja, Chief Executive Officer of Saha Crane Service Co., Ltd., said "On behalf of Saha Crane Auction Company Limited we would like to thank Tadano, who supported us in holding this event to publicly announce the launch of TM-ZX1205HRS. The concept of "TM Safety Eyes Era" was one of the greatest innovations in TM Crane industry. The event visually showed our customers how the crane operates."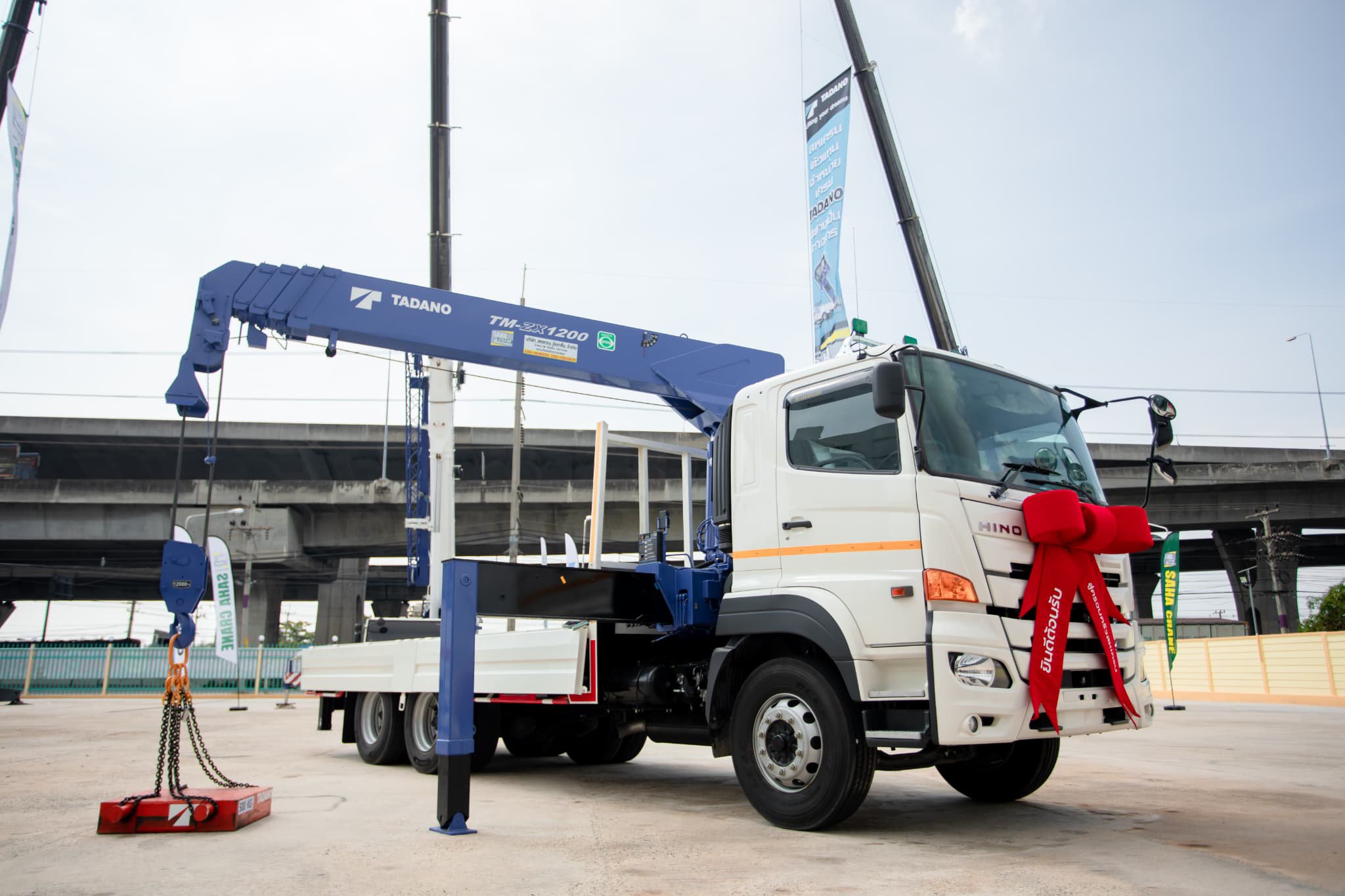 Tadano's TM-ZX1205HRS Truck Mounted Loader Crane during its November debut at Saha Crane Auction Co., Ltd. in Thailand.
"Distribution via Saha Crane Auction will provide customers with integrated solutions," said Mr. Sanitwaja, "This collaboration will synergize each party's strengths: Tadano's quality products and after-sales services and Saha Crane Auction's extensive expertise in heavy machinery leasing. The customers will be aware of how TM Crane can be easier to operate safely. This is a great opportunity for Saha Crane Auction; we will drive the TM Crane industry in Thailand."

Mr. Nozawa stated, "I believe these two things provide good synergy to expand business for both Tadano and Saha Crane Group, and this synergy will supply our valuable customers with more beneficial results from now on. I believe Saha Crane Auction has big enough potential to be the No.1 TM dealer in Thailand and the ASEAN region!!"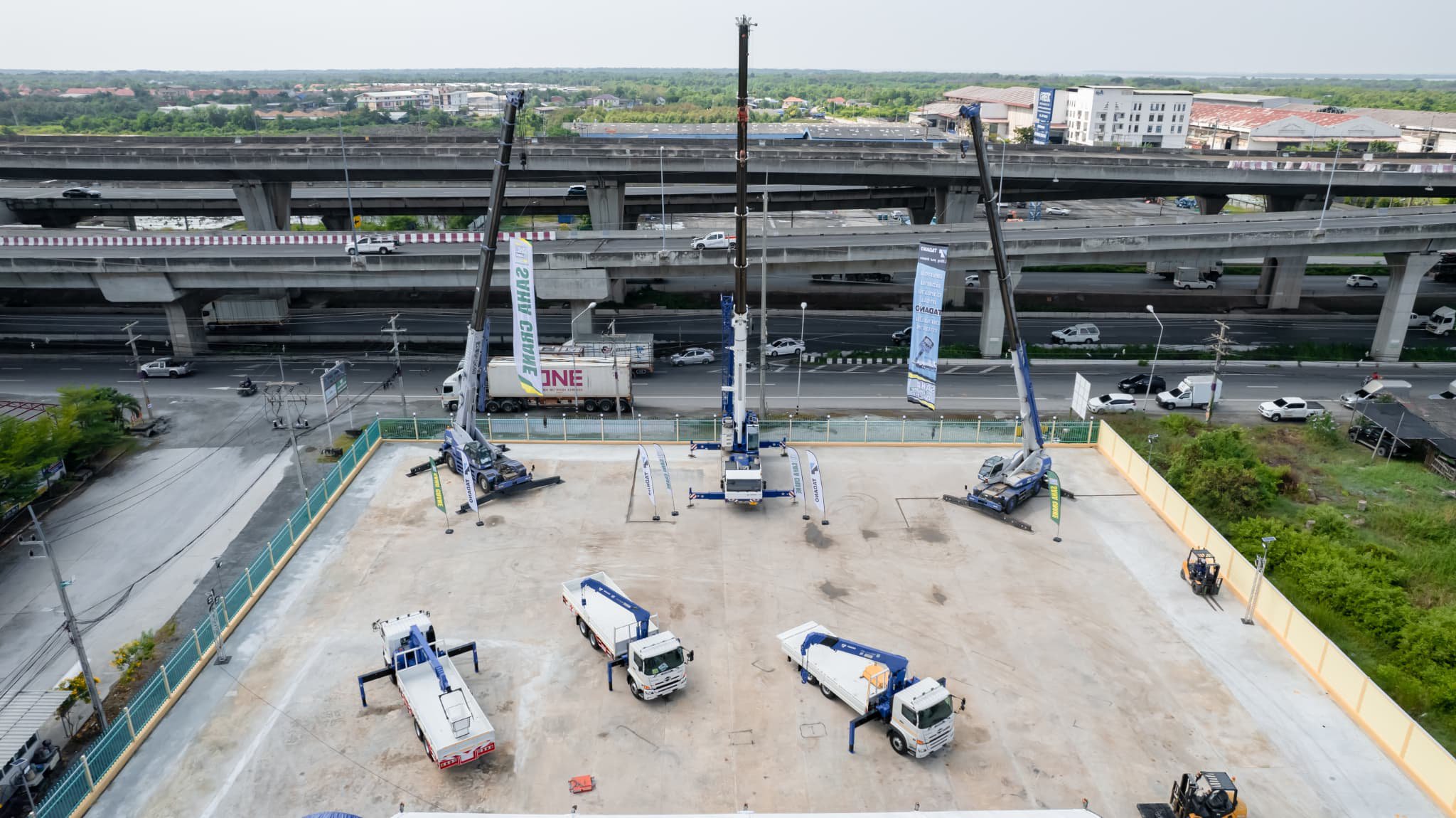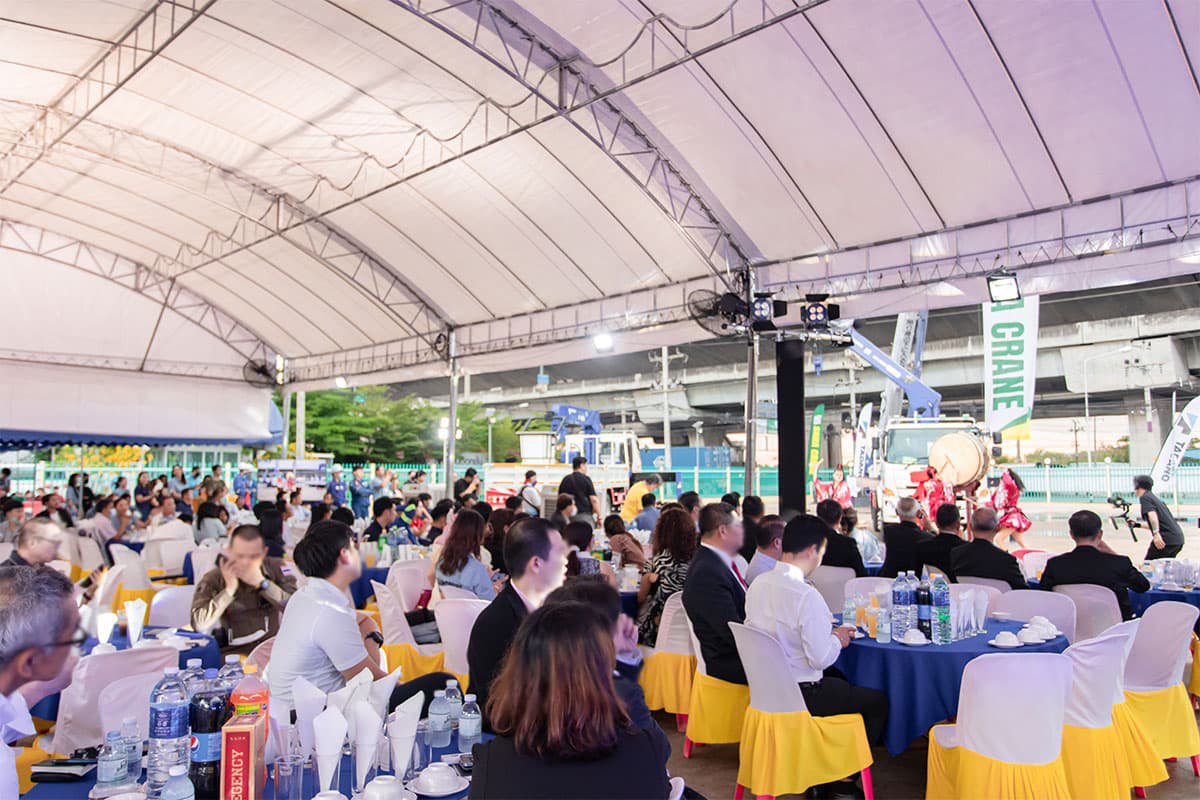 Related topics