AT-320XTG earns IDEA Special Award for multiple technology-driven boom developments, weight reductions

Tadano Ltd. earned another special level of recognition for innovation, technology, quality, and safety as its AT-320XTG received a Machine Industry Design Award from IDEA.

IDEA recognized Tadano with its 51st Machine Industry Design Award for the AT-320XTG aerial work platform. The award is the result of the AT-320XTG's cutting-edge combination of large-scale crane technology and high-altitude technology to create what IDEA has termed "an unrivaled finish based on the safety of the boom weight reduction technology and the duplication of control equipment."

Tadano President & CEO Toshiaki Ujiie attended the award ceremony held at Keidanren Kaikan on July 15th. He said "In the continuing COVID pandemic, this prestigious award is a great encouragement for us. Based on the management philosophy of 'Creation, Contribution, Cooperation,' we will continue to strive as a company that can contribute to the development of society through product development and the products and services we provide."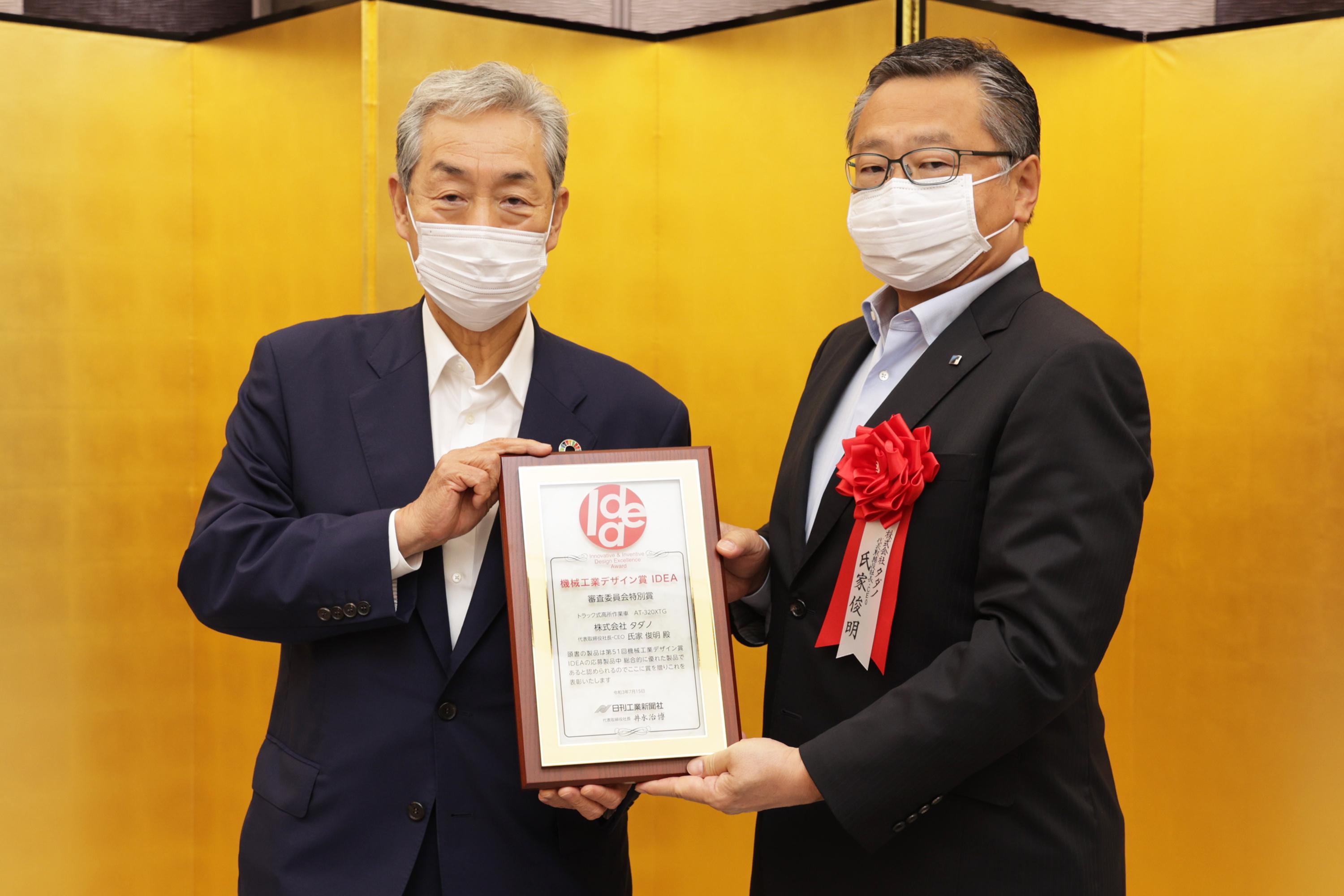 Mr. Haruhiro Imizu, President of The Nikkan Kogyo Shimbun, and Mr. Toshiaki Ujiie, Tadano President & CEO Source: The Nikkan Kogyo Shimbun, LTD. (THE DAILY INDUSTRIAL NEWS)
The AT-320XTG, released in January 2020, has become the next generation aerial work platform. Nicknamed "Sky Boy," development began in 2016 on the heels of its successful predecessor, the AT-270TG. The AT-320XTG features the same vehicle weight and dimensions as the conventional 27m model while achieving a "higher and wider" maximum lifting height and maximum working radius. The AT-320XTG's maximum lifting height of 32m is the highest in its class (GVW under 8t) in Japan, yet its gross vehicle weight of under 8t means it can be driven with a limited medium-sized license. It features a straight extending boom, redesigned from four sections to five, that offers easier handling.

The boom's redesign was one of the major advancements recognized by IDEA. To realize a combination of less weight and higher maximums for both lifting height and working radius, Tadano's team brought in the latest structural research on weight reduction technology that had seen success in Europe. Incorporating this research and their continuous quality engineering standards through groundbreaking parameter design methods, they developed the first lightweight cross-section boom made of domestically produced thin plate high-strength steel while also changing the boom shape from the conventional hexagon to a remarkable 21-sided polygon.

Redesigning the boom from four sections to five achieved both maintenance of retraction length and extension of total boom length. Configuring the telescopic mechanism with a single telescopic cylinder and a telescopic wire allows the five-stage simultaneous telescopic mechanism to achieve a high operating speed comparable to a conventional aerial work platform. Installing the electric wires and hydraulic hoses that supply power to the platform inside the boom not only helps avoid wear or damage, but also contributes to weight reduction, manufacturability, and ease of maintenance by combining those with the built-in cylinders as a common unit.

Steel selection proved an arduous, time-consuming process. For the boom and platforms, weight reductions were needed while maintaining maximum rigidity, durability, and robustness for worker safety and project efficiency. To achieve this, the Tadano team adapted a new, thinner boom steel plate, reducing thickness by half (4mm to 2mm) while increasing tensile strength to 1300MPa, plenty to handle stress increases or wear resistance due to thinning.

Of course, thinner steel means more difficulties when welding. The boom, with its 21 sides, is manufactured by bending a sheet-processed steel sheet with a press machine and welding them together. Advancements in the welding process created greater consistency in two key areas: distance between the steel plate and the welding nozzle, and the temperature during the welding process. This allowed for stable, high-quality welds that ensured rigidity and strength for the boom.

Another consequence of a thinner steel is often abnormal noise. This can happen during load fluctuations while the boom is being extended or retracted. Tadano engineers made the adjustments to the boom shape cross-section and shortened the straight parts of the cross-section to reduce welding strain and improve buckling strength. During initial testing, reverberations were detected along with wire noise not typically found in conventional booms. Pickup sensors and additional boom openings for visual inspections allowed the Tadano team to identify and solve these noise issues.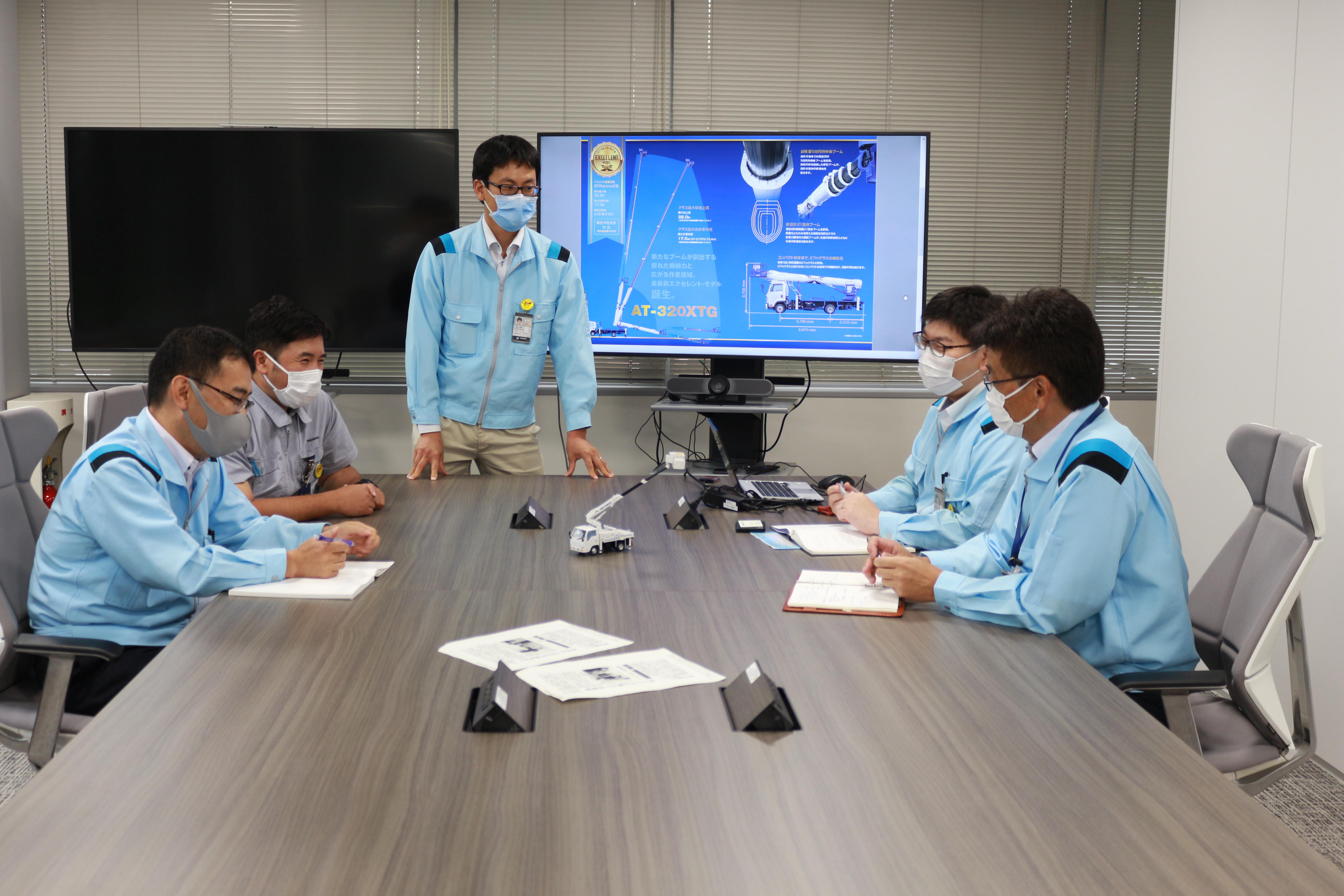 Chief Designer Mr. Yamashita (2nd from the right) and the rest AT-320XTG Design team
The multiple technological breakthroughs have resulted in a popular new aerial work platform that is in high demand from rental companies. Its compact size, reach, and high performance coupled with ease of operation gives Tadano a significant advantage in the aerial work platform market. The development process, which took a little over three years, showcases Tadano's ability to innovate and develop products designed to enrich the lives of customers and improve projects across the world.

IDEA, which stands for Innovative & Inventive Design Excellence Award, is a machine industry design award developed in 1970 with support from the Japanese Ministry of Economy, Trade, and Industry; the Ministry of Education, Science, and Technology; the Japan Patent Office; the Japan Chamber of Commerce; and six industry-academia organizations, all for the purpose of promoting and developing Japanese industrial product design. This is Tadano's fourth Machine Design Award from IDEA.

AT-320XTG product site(Japanese): https://www.tadano.co.jp/products/skyboy/at-320xtg/index.html
Video introduction of the AT-320XTG(Japanese subtitle)

Takamatsu, Japan – August 25, 2021

Related topics