Saudi Company Expertise Contracting Co. Orders 79 Tadano Cranes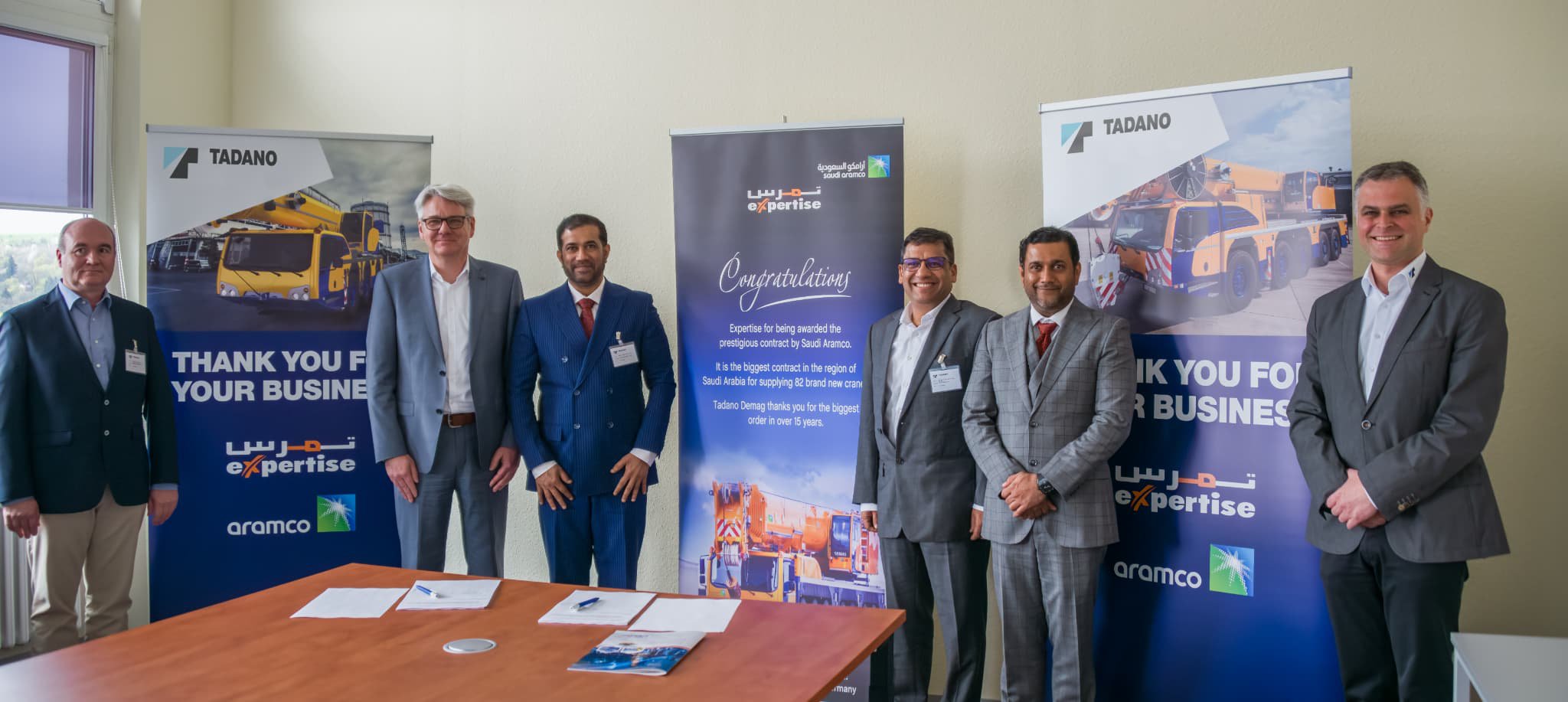 From left to right: Benjamin Bernhardt, Jens Ennen, Mohammed Ashif, Deepak Jain, Mahammad Ashpak, Jan Wieser.
HIGH-RANKING DELEGATIONS FROM BOTH COMPANIES AT CONTRACT SIGNING IN ZWEIBRÜCKEN
When the order for 79 Tadano all terrain cranes by Saudi industry-leading industrial service provider Expertise came, it was clear that it was not only the biggest order in 15 years for the Zweibrücken plant, but also the largest ever from a customer in Saudi Arabia. Expertise serves over 1,500 customers from the petrochemical industry, oil and gas production industry, energy industry, and other industrial sectors all over the Middle East, and its need for such a large number of high-performance all-terrain cranes was the result of a winning bid for a project for the world's largest oil production company, Saudi Aramco.

The specific cranes ordered were fifty AC 3.055-1, seventeen AC 5.130-1, eleven AC 5.250-1 and one AC 8.500-1. "The cranes from Zweibrücken have a sterling reputation throughout the Arab world, and our experience reflects that, so it went without saying that they'd be our cranes of choice for this project as well," underscores Expertise President and CEO Mohammed Ashif, who traveled to Zweibrücken together with Industrial Services Director Mahammad Ashpak to sign the corresponding contract. Both of them also emphasized how important it was that the two companies have a long tradition of working together smoothly in an environment characterized by trust.

Tadano also sent a high-caliber delegation of its own to the contract signing: In addition to Tadano Demag GmbH CEO Jens Ennen and Tadano Demag Vice President of Production Jan Wieser, Tadano Middle East Senior Sales Manager Deepak Jain and Tadano Middle East Service Technician Benjamin Bernhardt were present. "An order of this magnitude is not something you see every day. In fact, we're tremendously proud of the fact that one of the biggest names in the Middle East decided to rely on our products," Jens Ennen says, making it clear just how significant this order is for the Zweibrücken crane manufacturer. Deepak Jain adds: "We see this contract as a solid vote of confidence in the quality of our products and services from an important customer that we value tremendously. On top of that, the fact that a company as important as Expertise decided on our products is something that will resonate across the entire region."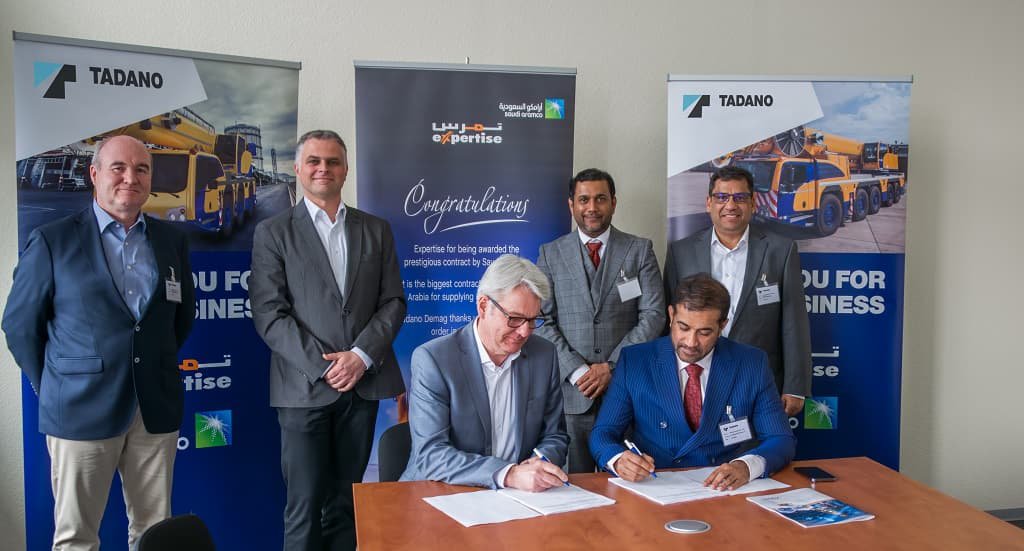 From left to right: Benjamin Bernhardt, Jan Wieser, Jens Ennen, Mahammad Ashpak, Mohammed Ashif, Deepak Jain.
Related topics