I & H Kran Puts New AC 100-4L And AC 220-5 All Terrain Cranes Into Operation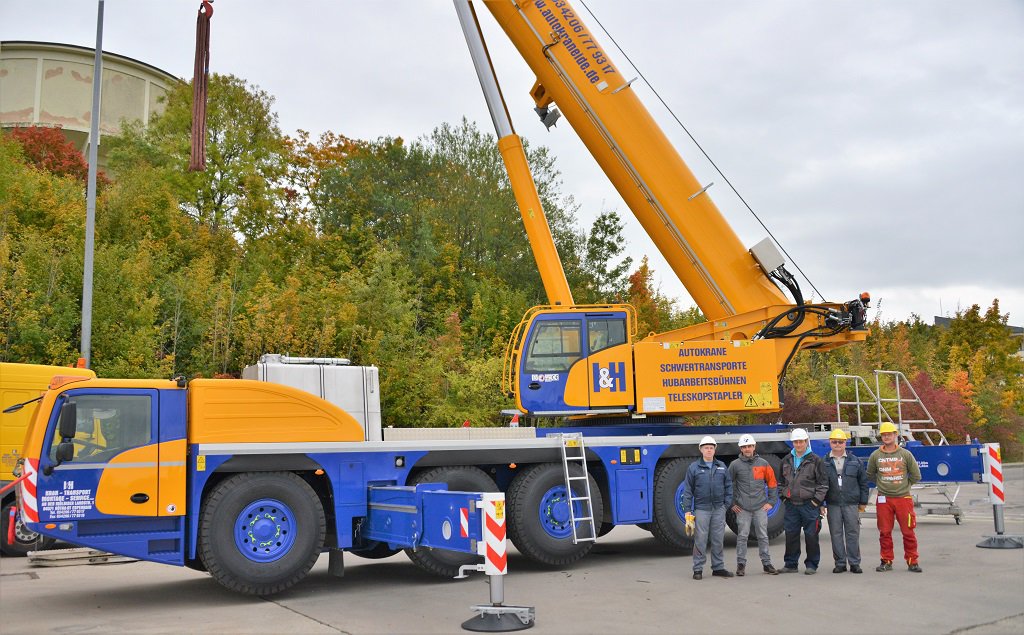 From left to right: Marcel Patiz (Crane driver, I&H) – Nils Laumann (Site Manager, I&H) – Sebastian Lund (Crane driver, I&H) – Andreas Kraska (Crane driver, I&H) – Stefan Sperling (Crane driver, I&H)
Site Manager Nils Laumann, who works at Rötha-based I & H Kran Transport Montageservice GmbH, considers Tadano all terrain cranes to be his machines of choice for a broad range of applications. Needless to say, this also applies to his company's two most recent acquisitions: an AC 100-4L* and an AC 220-5*.
"Among the many factors that won us over when it came to the AC 100-4L were its compact dimensions and two-engine concept," he reports. However, the absolute technical highlight for him is the IC-1 Plus control system, which makes it possible to take full advantage of the maximum available crane lifting capacity even when space is constrained and when using outriggers in an asymmetrical configuration. This enables the AC 100-4L to tackle jobs that would normally require a bigger crane. "Lifting capacities are significantly increased at various slewing angles in many cases, even with a partial counterweight, and that makes using this crane particularly cost-effective in many projects," Nils Laumann succinctly puts it.
His new AC 220-5 also shines with the advantages provided by the IC-1 Plus control system, which together with another technical feature won the I & H site manager over: the length of the crane's main boom, which at 78 meters is second to none in its class. "We'll be using this crane primarily to lift concrete prefab components. Its long main boom and radius of up to 74 meters make it the ideal machine," explains Nils Laumann, who has already scheduled the AC 220-5 for its first projects.

*In October Demag, Mantis and Tadano cranes Joined Forces under a unified brand – the Tadano brand. There is only one name to remember when it comes to the best lifting equipment. With the unification Tadano introduced a new naming formula.

The machines in this article are now called AC 4.100L-1 and AC 5.220L-1

From left to right: Marcel Patitz (Crane driver, I&H), Sebastian Lund (Crane driver, I&H), Nils Laumann (Site Manager, I&H), Uwe Degenhardt (Sales Manager, Tadano)
Related topics