NEW AC 45 CITY FOR AUTO-KLUG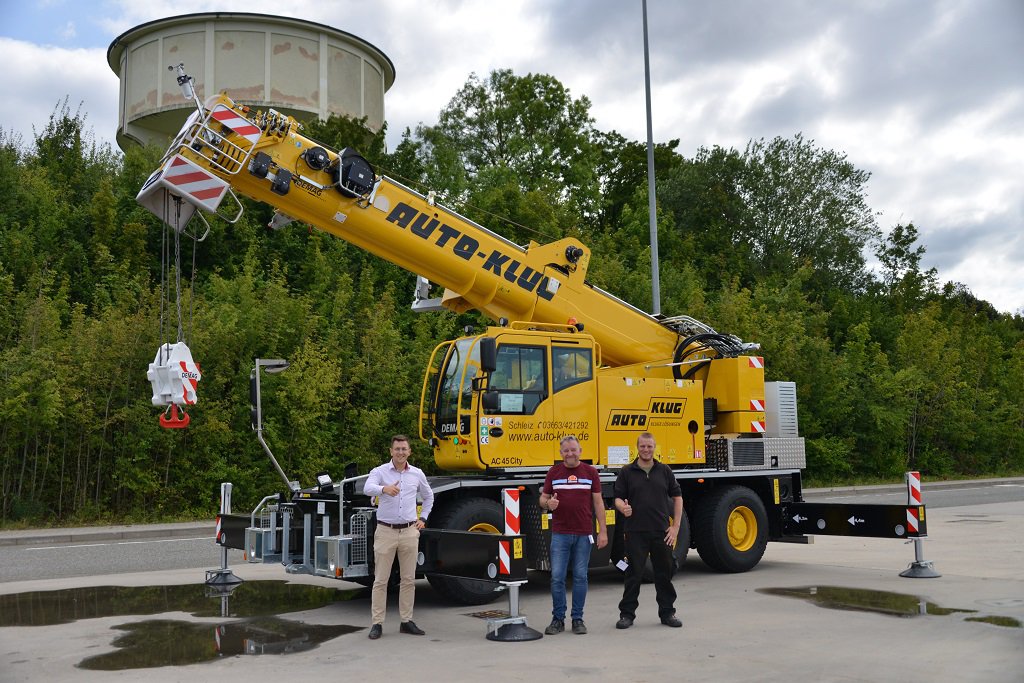 From left to right: Thomas Keckeis (Sales Manager, Tadano), Jochen Friedrich (Crane operator, Auto-Klug), Heiko Richter (Field service technician, Auto-Klug)
The City cranes from Zweibrücken have long been a regular fixture in German crane service provider Auto-Klug's fleet: The company from Hof not only has two AC 30 City, three AC 40 City, and an AC 45 City all hard at work, but also added an additional AC 45 City. "City cranes are simply unbeatable when it comes to working in buildings with low ceilings," crane operator Jochen Friedrich said while picking up the "newcomer" in Zweibrücken. The crane was handed over by Tadano Sales Manager Thomas Keckeis.

The fact that the City cranes from Zweibrücken are extremely reliable and that their crane operators are very happy with them were crucial factors in the company's decision to procure a second AC 45 City. "We've been using these cranes for over twenty years and so know from experience that we can depend on them all the way," highlights Jochen Friedrich, who will predominantly be using the new 45 City indoors for overhead crane installation projects and assembling and disassembling machinery.

It is worth mentioning that his company sees the merger between Tadano and Demag as a very positive development: "We use a lot of cranes from Zweibrücken – not just City cranes, but big all terrain cranes with lifting capacities of up to 500 tonnes as well. This merger between the two brands means that there is now a much larger selection of cranes available from a single source. And needless to say, we're really looking forward to the first new Tadano cranes and expect them to combine the best of both worlds," explains Jochen Friedrich on behalf of all his colleagues.
Related topics