Tadano Launches the AR-7000N, the Highest Lifting Capacity All-Terrain Crane from a Japanese Manufacturer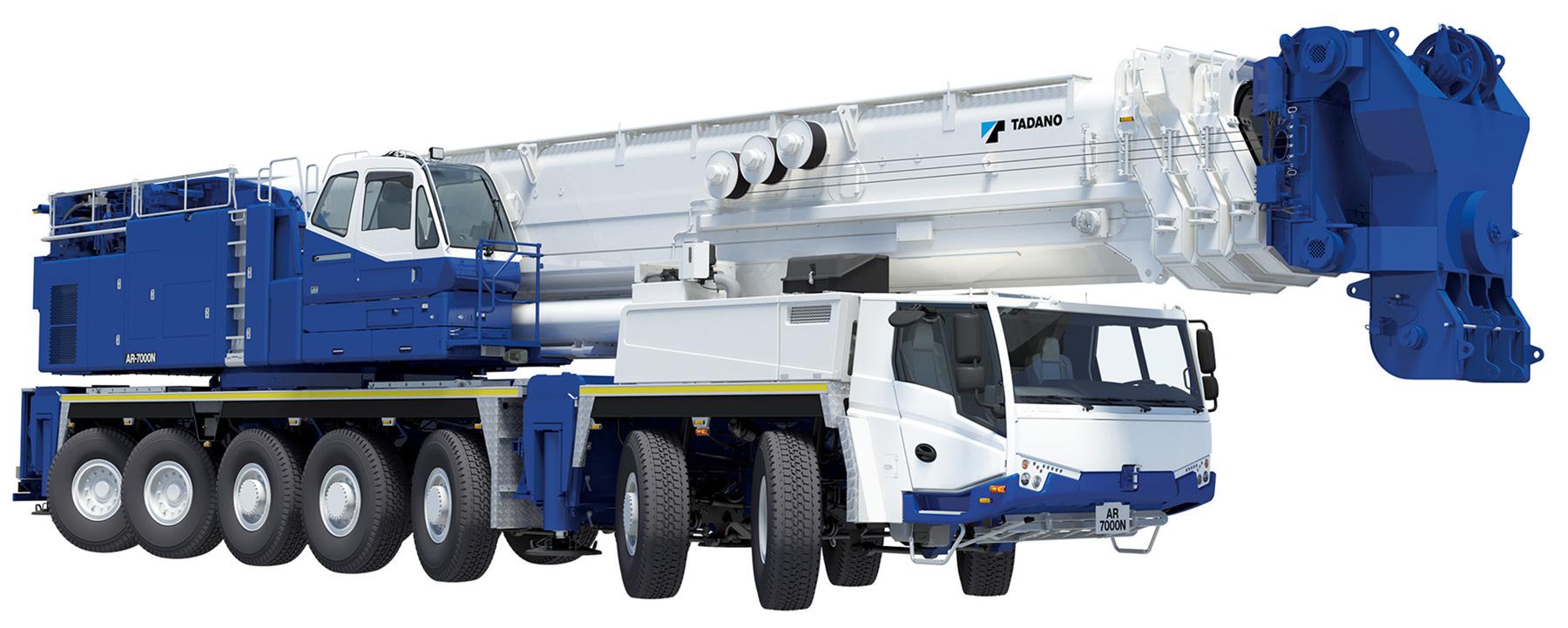 Tadano's legacy of innovation that raises standards for capacity and flexibility continues with the all-new AR-7000N. Built specifically for the Japanese market and released in March 2021, the AR-7000N delivers a remarkable 700 tonnes of lifting capacity, making it one of the largest all-terrain cranes in Japan. It pushes even further, offering this capacity on a 7-axle chassis – something no other crane offers.

The AR-7000N serves as successor to the AR-5500M, which was the largest all-terrain crane in the Japanese market when first introduced in 1998. The AR-5500M features a 550-tonne lifting capacity and has been a long-selling model serving large-scale infrastructure projects including highways, bridge construction, general construction and maintenance work for large plants and buildings.

As customers take on larger projects that require increases in capacity and efficiency, Tadano has responded with the new AR-7000N. New materials and advanced design updates result in significant weight reduction and up to 40% improvement in crane performance, while still maintaining the same dimensions and weight as the AR-5500M. Customers who already have plans to add the AR-7000N to their fleets have recognized the compact size and high lifting performance.

These innovations in materials and performance contribute to efficiency in work for Tadano customers, and for society at large. Not only are environmental impacts reduced, but the AR-7000N contributes to the construction and maintenance of renewable energy facilities, including windmill power generation.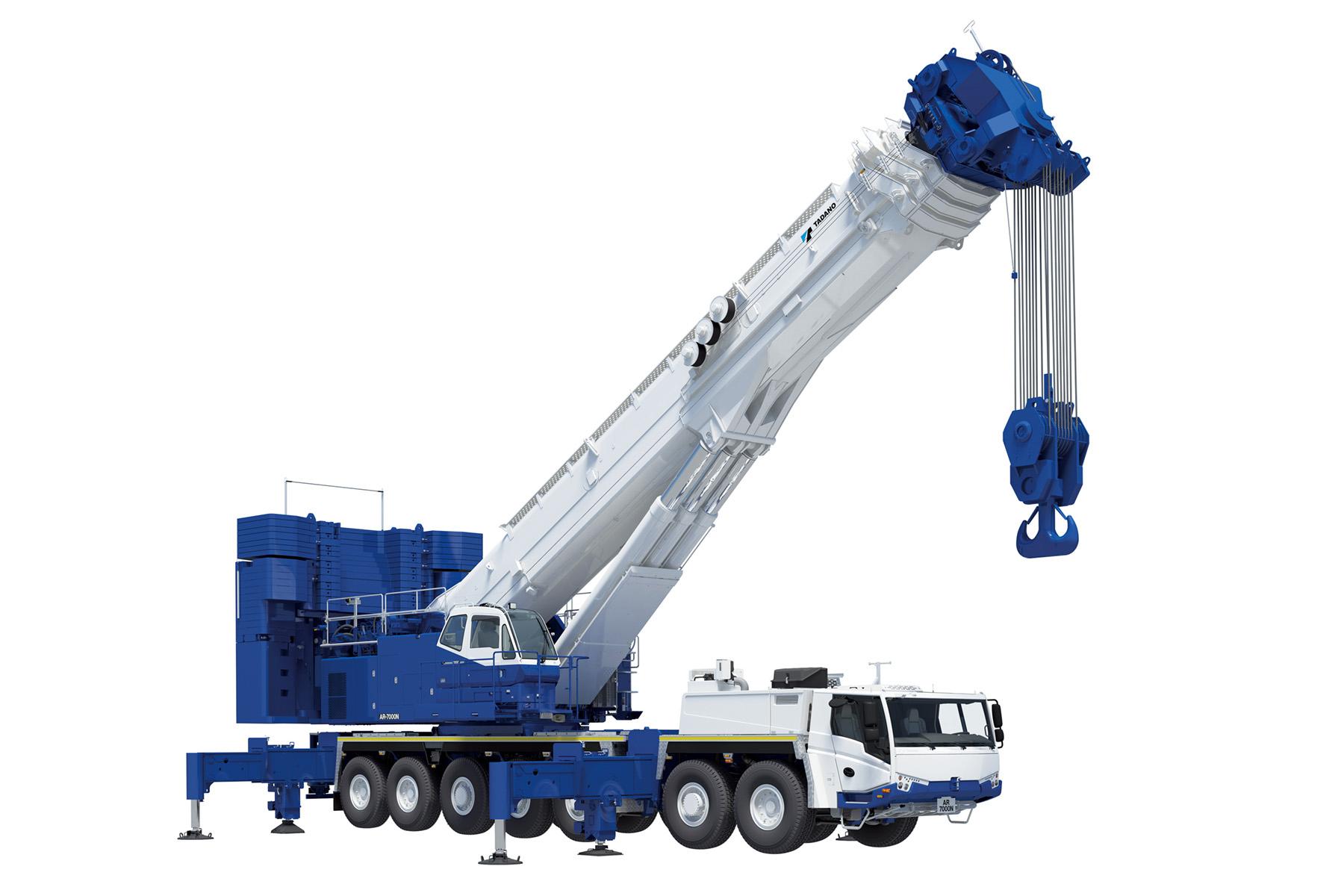 Highlights of the new AR-7000N include:
1) Capacity and Performance: Largest 700-tonne All-Terrain Crane in the Japanese Market
The AR-7000N is one of the largest all-terrain cranes in Japan with a lifting capacity of 700 tonnes. Lifting performance has been improved by up to 40% compared with the AR-5500M, especially in the working radius of 20m, popular with bridge construction. The boom performance has also been significantly improved by 10%-40% to meet the needs of modern job sites.
2) Efficiency: New 4-Stage and 6-Stage ESP Booms
The AR-7000N is equipped with a new 4-stage ESP boom with a 43m boom length. It replaces the 3-stage boom featured on the AR-5500M. Focused on strength as well as efficiency, the 4-stage boom eliminates the need to assemble the conventional fixed boom (FB) when combined with the luffing jib (LJ) under the same conditions as the AR-5500M. This bypasses any need to secure assembly space and reduces assembly time. A single cylinder is built in to extend and retract the boom, making it lighter while improving lifting capacity.

In case of the combination of the fixed boom and the luffing jib, the maximum ground lifting capacity is 140.5m, which greatly expands the working area.

A 6-stage ESP boom is also available that adds additional length while maintaining ease of use.

3) Compactness: Efficient Transportation and Precise Maneuverability
The AR-7000N's ultra-high tensile steel plate construction achieves significant weight reduction versus the AR-5500M, yet it maintains the same dimensions and weight as its predecessor. The crane's overall width is 3m and its height is just 4.3m. The crane's maximum speed is 62.5 km/h or just under 39mph.

With the 6-stage boom installed, the AR-7000N has a shorter overall length than the AR-5500M at 18.82m with the same compact dimensions. It has an outriggers installation width of 9.0m and a tail swing of 6.3m, all with a higher lifting capacity.

4) Comfort: A New Type of Carrier and Cab
The AR-7000N's newly designed carrier and cab comes from Germany and features full camera views that improve visibility and safety. An all-new control system with a large display improves operability, while the newly adopted driver's seat is equipped with various adjuster functions to suit the driver's body shape to support stable driving with less fatigue.
5) Information and Safety: HELLO-NET as Standard Equipment
HELLO-NET is standard on the AR-7000N. This telematics web-based information service uses mobile communications to monitor crane operation status, GPS to check the location and a website that provides information that enhances maintenance management.

Another development in design is the addition of stanchions in areas considered necessary for working at height, reducing risk and enhancing safety. Both the crane and carrier are also designed for easy disassembly to facilitate fast and efficient transport.



Tadano is always reaching higher to develop more innovative models while providing support and services that go one step further. More information will be released as customers take delivery of the new AR-7000N.


Related topics