Descon Engineering Tour of Two Plants Builds Understanding, Enhances Relationship with Tadano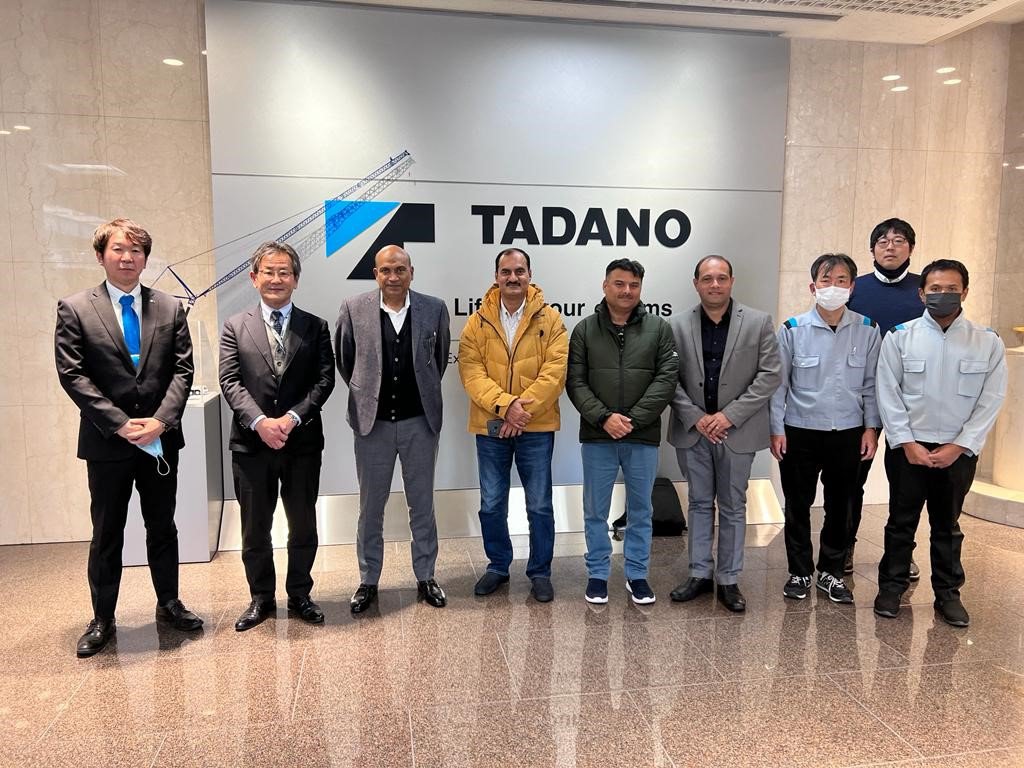 Pictured, Left to Right: Mr. Norihiro Kawai, Assistant Manager Mobile Crane Sales Department, Asia - Pacific Sales Division, Tadano; Mr. Hiroyuki Goda, Executive Officer, Research and Development, Tadano; Mr. Muhammad Sohail, Head of Operations for Qatar and Adviser of UAE, Descon Engineering; Mr. Muhammad Imtiaz Ghani, Manager of Equipment and plant of UAE, Descon Engineering; Mr. Imran Ahmed Hashmi, Manager of Maintenance equipment and plants for Descon Engineering; Mr. Lloyd Monteiro, Sales Manager, United Al Saqer Heavy Equipment; Mr. Kazufumi Miyake, Assistant Manager of Lifting Equipment Development Department 1, Tadano; Mr. Kassim Zulkatzam, Lifting Equipment Development Department 1, Tadano; and Mr. Kota Nakano, Mobile Crane Sales Department, Asia - Pacific Sales Division, Tadano
Factory Tours offer visitors a direct, transparent look at crane design, construction, testing, and delivery
TADANO cranes enjoy a legendary reputation for quality, safety, and reliability around the world. Their use in the field reinforces how these attributes allow customers to complete jobs safely and efficiently.

The opportunity to visit the facilities where these models are designed, constructed, tested, and shipped offers customers direct insight into how Tadano implements its highest level of quality engineering and care for its cranes. Tadano welcomes such visits to enhance trust and understanding between the company, its dealers, and customers. It also serves as an opportunity to field questions, receive direct feedback, and learn how to better serve customers.

One example of these visits took place in January of this year. Tadano, Ltd. welcomed representatives from Descon Engineering - a major customer in the Middle East - as well as their dealer, United Al Saqer Heavy Equipment, for factory tours at two of their largest facilities in Japan.

Descon Engineering operates in the sectors of oil and gas, cement, chemicals, and power, including hydroelectric and renewable energy. A multinational company with engineering headquarters in Pakistan, much of Descon's primary operations take place in the GCC (Gulf Cooperation Council) nations. They include the United Arab Emirates (UAE), Saudi Arabia, Kuwait, Qatar, and Oman. Esteemed guests from Descon on this tour included Mr. Muhammad Sohail, Head of Plant Operations for Qatar; Mr. Muhammad Imtiaz Ghan, Plant and Equipment Manager for plant and operations in the United Arab Emirates; and Mr. Imran Ahmed Hashmi, Manager of Maintenance and Plant Equipment.

United Al Saqer Heavy Equipment began its dealer relationship with Tadano in 1993 and works closely with Descon to serve its lifting and other needs on projects. While United Al Saqer also distributes products from Kawasaki Machineries, Astra Trucks, Mitsubishi Forklift, and others, Tadano remains one of their most sought-after brands; United Al Saqer received an Award of Sales Performance in 2021.

Descon Engineering's experience with Tadano cranes in the field goes back decades, and they continue to expand their fleet. Just since 2017, Descon purchased seven Tadano cranes for its UAE operations and two for Qatar. The models for UAE are all GR series rough terrain cranes; one GR-500EXL crane was delivered in 2017, followed by a GR-800EX in 2021. In 2022, Descon took delivery of two GR-1000EX models along with three additional GR-500EXL models, two of which were just acquired in November. Meanwhile, cranes for Qatar were ATF all terrain models, including the ATF 70G-4 and ATF 110G-5, both purchased in 2020.

Mr. Lloyd Monteiro, the sales representative for Tadano with Descon, attended with the group on behalf of the dealer.

Mr. Monteiro accompanied Descon Engineering representatives on tours of Tadano's two largest manufacturing facilities: the Shido and Kozai plants in Japan.

"The visitors were particularly impressed with the equipment and systems at the Kozai Plant," said Mr. Hiroyuki Goda, an Executive Officer in Research and Development with Tadano. Described as a "next generation smart plant" for its design and use of technology, the ¥21.5 billion Kozai Plant opened in 2019. The guests were able to witness how the plant worked to maximize technological efficiencies for its rough terrain cranes, truck cranes, and main parts. They also toured the Shido Plant, which opened in 1980 and produces all terrain, rough terrain, and truck cranes. Descon Engineering's cranes, delivered through United Al Saqer, were manufactured in these plants.

"The visit to the factory provided the customer with a deeper understanding of Tadano's products," noted Mr. Norihiro Kawai, the Assistant Manager for the Mobile Crane Sales Department's Asia and Pacific Sales Division. "We were able to strengthen our relationship, which will give them priority in considering our products when purchasing cranes in the future."

For Tadano, transparency leads to stronger relationships. The company is proud to showcase how its cranes are conceived, constructed, tested, and serviced. If you would like to experience what Descon Engineering and United Al Saqer did during their tours of two plants, please contact your Tadano service team or dealer.




Related topics