Tadano cranes, including three new GR-300EX-3 models, assist North Refineries Company with Iraq's recovery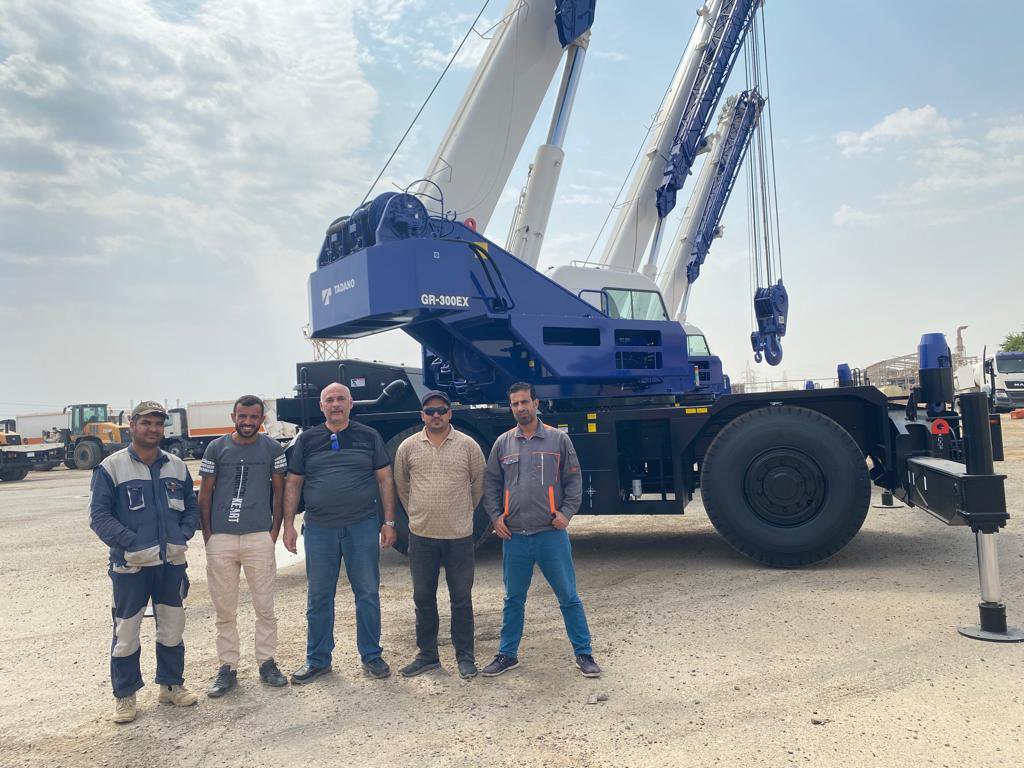 Standing in front of the newly delivered GR-300EX-3 models, pictured from left to right: Mr. Saad Sabar Abid, NRC driver; Mr. Mahmoud Hadi Hamad, NRC driver; Mr. Zaid Osamah Subhi, SAM Service Manager; Mr. Subhi Ibrahim Ahmed, NRC technician; and Mr. Ayad Salih Turky, NRC technician.
Iraq continues to recover from decades of war and conflict, and the nation's need to produce, refine, and export oil is crucial for its success. North Refineries Company (NRC) works in conjunction with Iraq's Ministry of Oil in pursuit of these recovery goals, and Tadano cranes are there to assist. As their needs continue to grow, NRC recently added to their existing Tadano fleet with the delivery of three new Tadano GR-300EX-3 model cranes.

NRC is based in Baji, a city of 175,000 in northern Iraq's Salahaddin Province, about 210km north of Baghdad. Founded in 1978, NRC's refinery endured significant turmoil during the Gulf War as well as numerous incidents and attacks in years that followed. With relative calm over the last few years, NRC can currently refine 310,000 barrels of oil per day.

Mr. Sudad Ibrahim Majeed, Senior Chief Engineer of North Refineries Company, notes that this work requires over 100 heavy machines including trucks, heavy machinery, forklifts, and cranes. He credits ongoing satisfaction with Tadano's quality and ongoing service as a key factor in the decision to purchase three new GR-300EX-3 models. When deciding which new machines to include in their crucial operations, his priorities were also "safety and options, and we need good prices and delivery."

One particularly attractive feature of the GR-300EX-3 was its maneuverability inside the site. He praised the crane's "good design and new technology."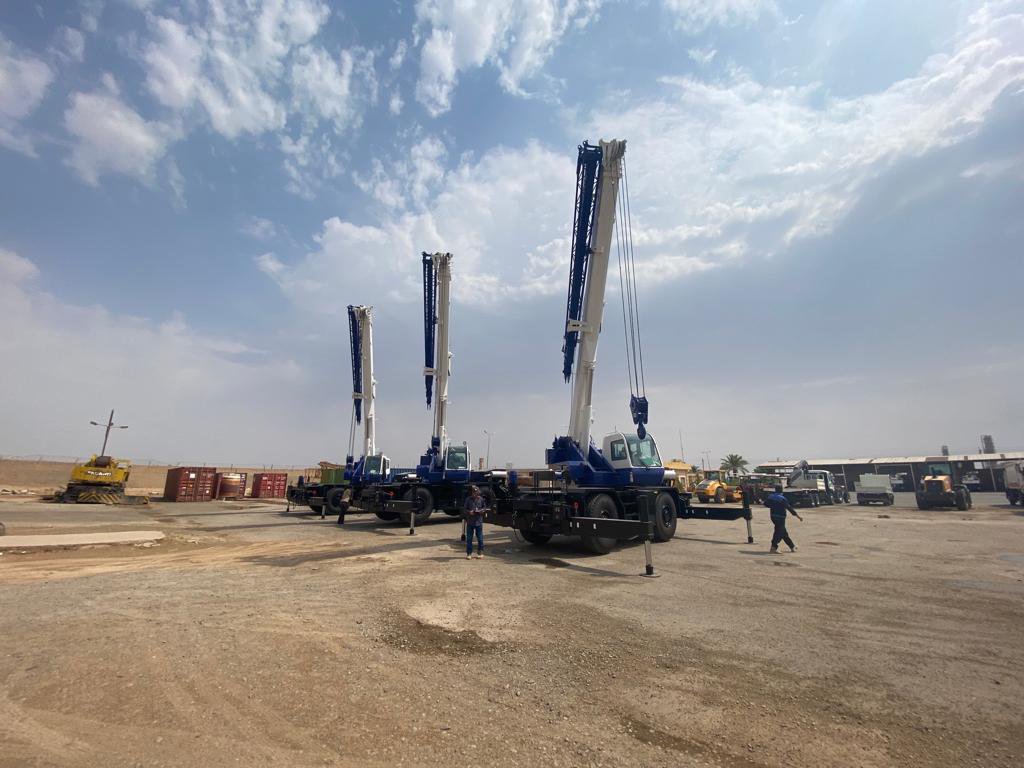 Three Tadano GR-300EX cranes, recently delivered to North Refineries Company of Baji, Salahaddin, Iraq
The new GR-300EX models handle a variety of general maintenance activities involving welding, lifting pipes, lifting damaged equipment, and handling and lifting tanks, heat exchangers, and valves inside the refinery. They were purchased from Tadano through Sardar Automobile and Machinery Trading Co. Ltd (SAM), with delivery taken in September.

"They arrived just in the time we needed them," Mr. Majeed said, "SAM was very helpful during all processes of delivery. The process was clearly communicated, and the advance and handover training was excellent."

As a valued customer of Tadano, SAM regularly visits the site and offers ongoing training as needed.

Mr. Majeed also noted how the SAM team's after-sales service impressed him once again after their previous experience receiving GT-600EL models.

"They passed on all the required information and quickly handled any needs for parts. With the parts availability and the service team visiting us frequently, I can say other brands are not like Tadano's services," he said.

As for the cranes themselves, Mr. Majeed noted "we have been very satisfied with Tadano's high quality. We have had good experiences, particularly with the maneuverability of the GR series."

Other Tadano cranes in NRC's current fleet include four GT-600EL units, two GT-300EL units, and one GT-750EL unit - all accessible within 10 minutes from any site location at NRC. Despite temperatures that often exceed 40-45°C, the cranes operate in all weather conditions except for high winds or heavy rains.

"We are using the cranes on a daily basis as we have heavy loads to lift, fix, and lower back," he said, noting that while the cranes have lift capacity limits beyond all refinery requirements, they follow the lifting tables closely and use safety factors to minimize risks and allow for efficient operation.

"We are very happy to purchase Tadano," Mr. Majeed said. "They are a very famous name in the crane business. We have been very satisfied and because of that all our rough terrain cranes are Tadano products now. We will order more Tadano cranes in future."

Indeed, NRC ordered three new GR-130EX units that will join the fleet by the end of the year.

North Refineries Company constantly deals with logistical challenges; the nature of the work, the confined spaces indoors, and the great height of the refinery plants – sometimes up to 112m - all require quality reliable machinery.

Tadano is proud to continue its long relationship with NRC, providing a variety of dependable truck cranes and rough terrain cranes as the company helps Iraq continue its recovery.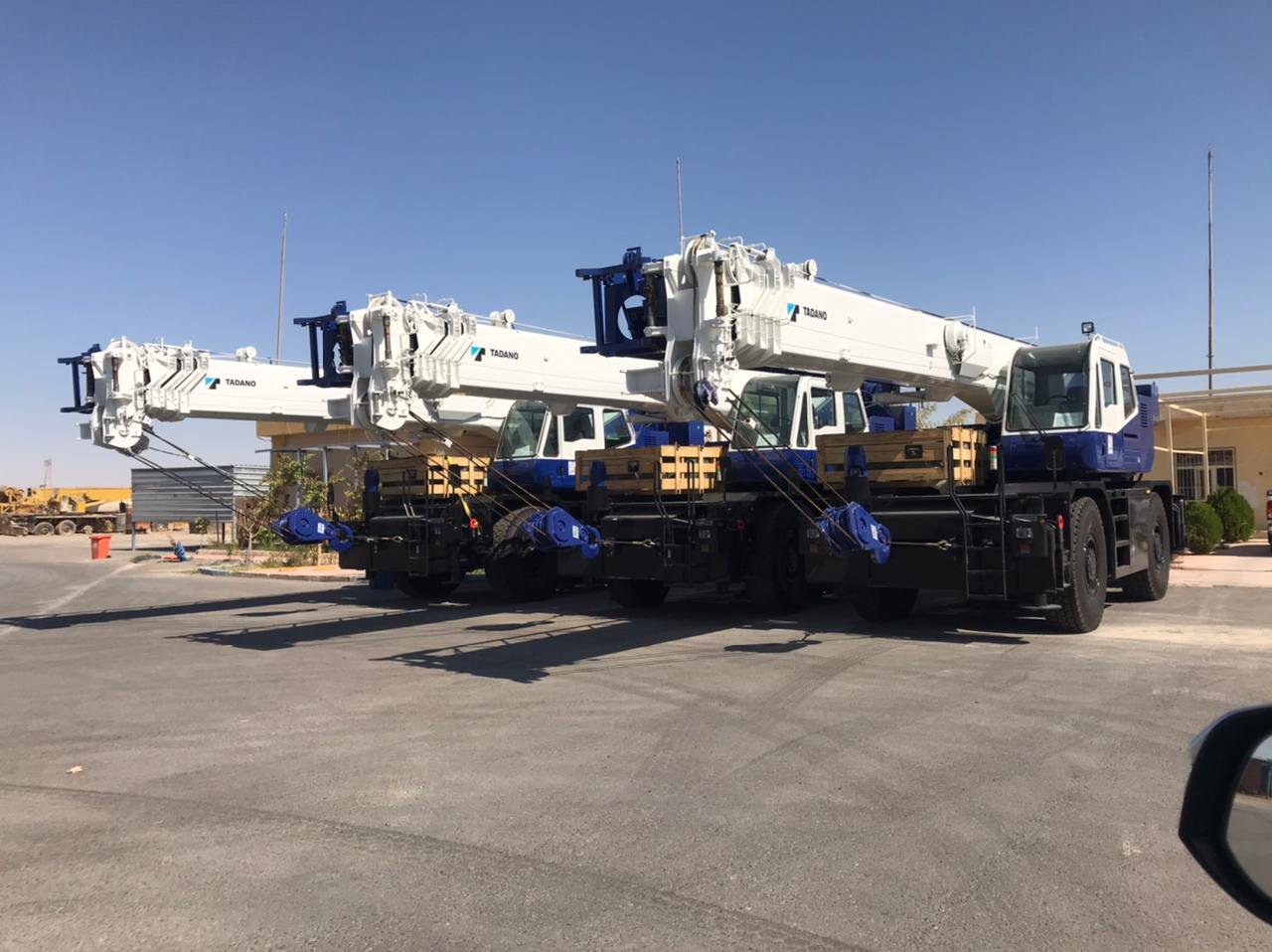 Three Tadano GR-300EX cranes, recently delivered to North Refineries Company of Baji, Salahaddin, Iraq
Related topics