Geo-Transport & Construction Takes Delivery Of Four Cranes, Employs GR-1100EX-3 For Government Center Construction In The Philippines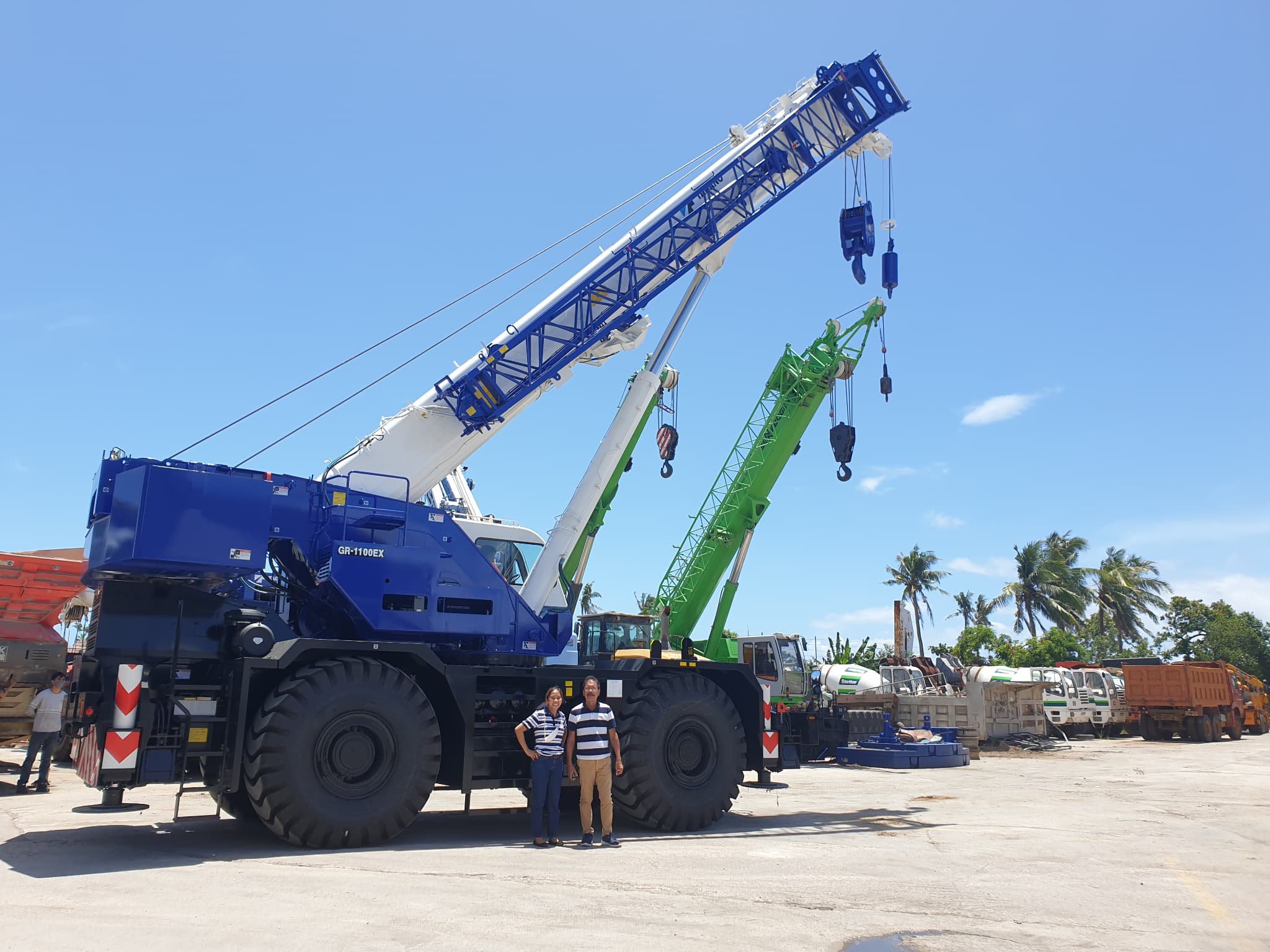 Right: Mr. Jim Loquero - Operation Manager, Geo Transport, Left: Ms. Monark, Allied - Account Manager, Maprangala Maricon C.
Geo-Transport & Construction, Inc. continued to expand its fleet with recent deliveries of one GR-1100EX-3, which has proved indispensable on one of its latest infrastructure projects, and three GR-800EX-3 cranes.

For years, Geo-Transport & Construction, Inc. has embarked on construction projects for both government infrastructure projects and private industrial facilities in cities across The Philippines. For a government building construction project in Cavite – a province in the Calabarzon region in Luzon with 4.3 million residents – Geo-Transport & Construction turned to their GR-1100EX-3 rough terrain crane for its lifting needs.

Geo-Transport & Construction has a long history with Tadano cranes and often showcases work being accomplished with them, including recent work by its GR-1450EX-3 crane, as shown on Geo-Transport & Construction's Facebook page. After careful deliberation, they concluded the GR-1100EX-3 would best address their needs for this project.

"The GR-1100EX-3 is a good, high-performance crane," said Geo representatives, noting its specs and solid 110t lifting capacity.

For this urban jobsite, the crane had to operate within a confined space amid tight surroundings. Fortunately, the versatility and transportability of the GR-1100EX-3 allowed Geo to load and transport the crane using one trailer loaded with the tractor head and one convoy truck. In fact, the GR-1100EX-3's compact carrier is almost the same size as the GR-800EX-3, making it one of most maneuverable cranes of its capacity. The trip from nearby Tagaytay to the site location in Trece Martires took 4 hours. About 30 minutes were each required to load and unload the crane; two riggers at the new project site were able to set up the crane and have it ready for operation in about 40 minutes.

Given the restricted space and need for efficient operation, the GR-1100EX-3's AML-C Automatic Moment Limiter proved useful. AML-C lets the crane operator navigate lifting capacity changes without the need to change configurations or codes to accomplish a lift, enhancing safety and saving significant time.

From February through April of this year, Geo-Transport & Construction used the GR-1100EX-3 to lift construction materials and parts of tower cranes safely and efficiently.

According to Geo-Transport & Construction, "The job is way better" with the Tadano GR-1100EX-3 and "all of the features of the crane allowed good performance."

The GR-1100EX-3 stands ready for the next project for Geo-Transport & Performance, as do the other Tadano cranes in their fleet.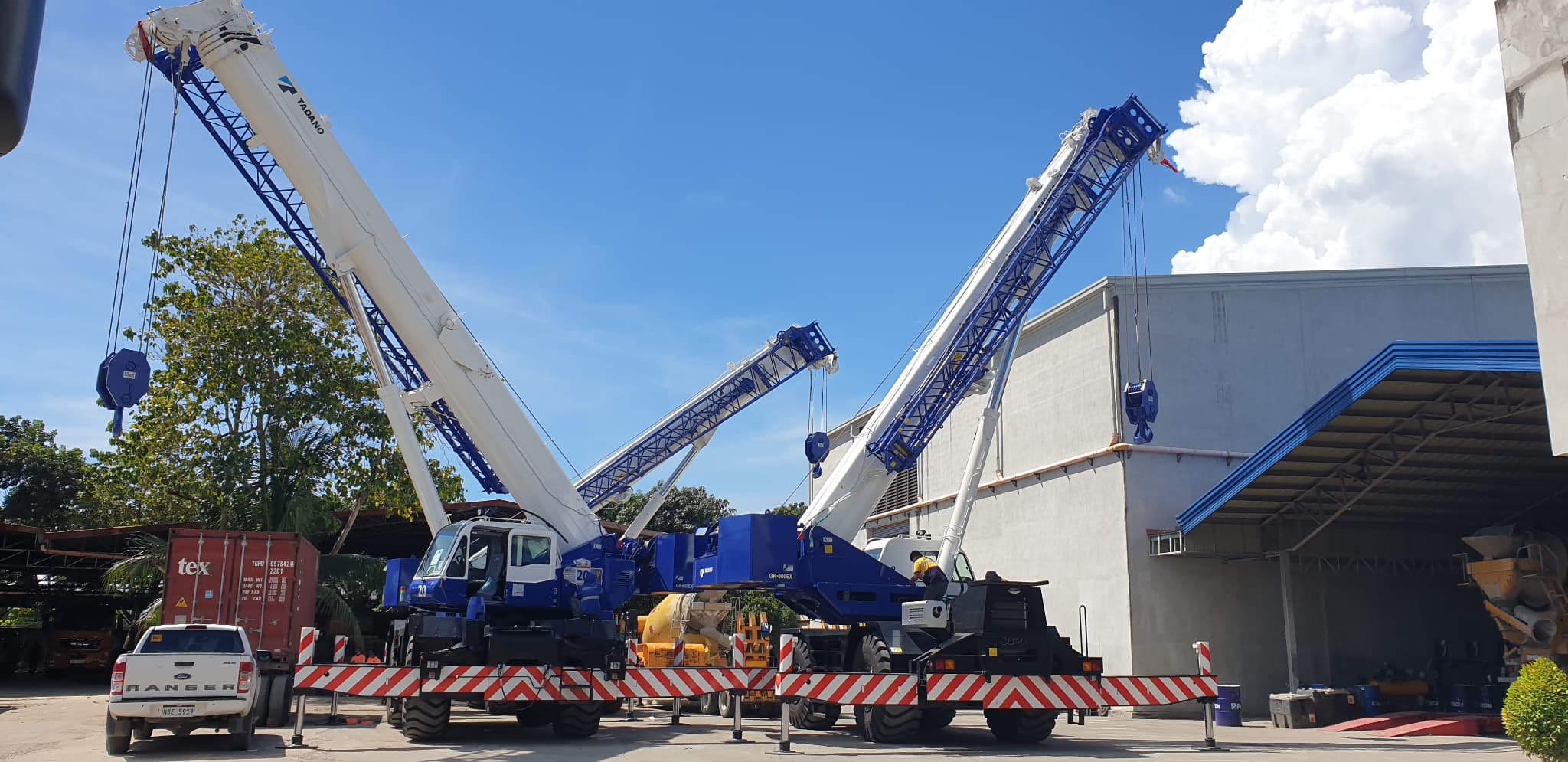 Three GR-800EX-3 cranes
Find out more about the Tadano GR-1100EX-3 here:
https://www.tadano.com/businesses/products/RC/gr-1100ex/index.html

Find out more about the Tadano GR-800EX-3 here: https://www.tadano.com/businesses/products/RC/gr-800ex/index.html
Related topics