Tadano Completes Third Crane Donation to Easter Island in Chile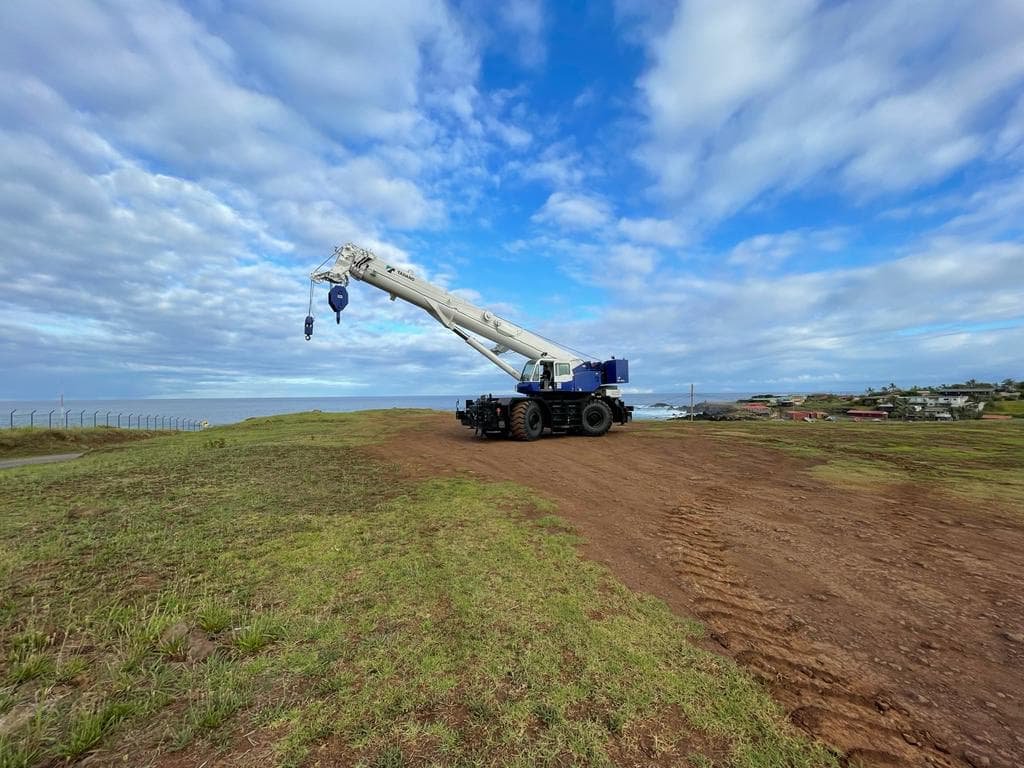 Tadano, true to its philosophy of "Creation, Contribution, Cooperation," has finalized delivery of its third crane donation to Chile's Easter Island.

The delivery took longer than anyone anticipated. Tadano had decided to donate the crane in 2019 as part of its 100th anniversary celebration and to further their valued relationship with Chile and Easter Island. The pandemic caused shipping and delivery postponements on numerous occasions. The crane spent two years on mainland Chile before it was finally delivered to Easter Island on January 26, 2022 to cheers and applause from local residents.

The crane itself, a GR-1000XL rough terrain crane, follows two previous cranes Tadano donated to the residents of Easter Island. The first crane was donated in 1991 to help with the Moai Restoration Project, a major undertaking that involved the Chilean government, embassy, navy, archeologists from Japan and Chile, and island locals. By 1995, the crane helped restore 15 of the legendary Moai statues to their altars in Ahu Tongariki, a UNESCO World Heritage Site. Afterwards, it proved extremely useful for transporting supplies and assisting with public works projects until weather and heavy use took it out of commission in 2003. Tadano donated a second crane, a TR-600XL, as a replacement in 2005. Fourteen years later, the decision was made to donate a third crane.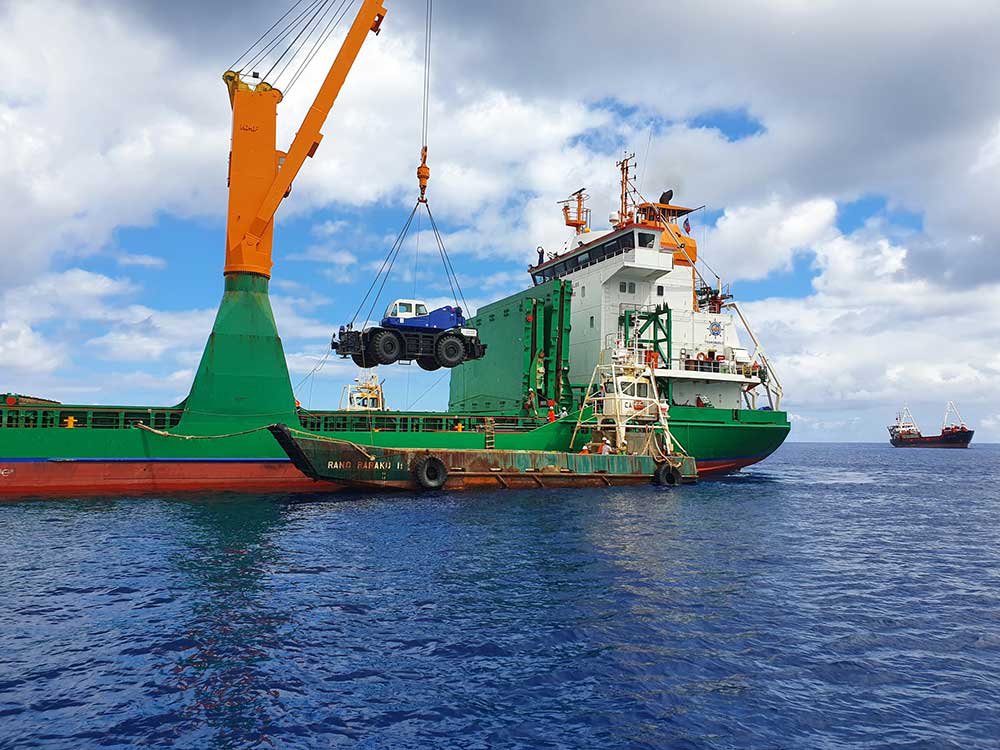 Mr. Daihei Semba and Ms. Yurie Yamashita, both of TADANO Chile SpA, were actively involved in the entire process. "While the transportation was quite difficult, it took more effort and time to navigate the procedure and process for donation," said Ms. Yamashita. "The procedure clarification about the import and customs policy was the first hurdle for us."

For the donation itself, Tadano worked with SASIPA, an organization focused on the quality of life for inhabitants of Easter Island. In order to ensure proper donation and import procedures are followed, various stakeholders such as Chilean government, the State of Valparaiso and Chilean customs officers were also consulted. The journey from Puerto Montt to Easter Island took7 days and was carried out by shipping company Transmarko. At every point of the journey, incredibly cautious care was taken to protect the crane from seawater. Upon arrival at Easter Island, it was necessary to transfer cargo to small ships offshore, since Easter Island does not have a port capable of handling a large ship. This work was done with a crane mounted on the ship.

Once on the island, Tadano service engineers reassembled the GR-1000XL. They also had a chance to examine the TR-600XL crane that was donated in 2005. It was quite rusty and needed significant repairs, which are in the process of being made. This will provide Easter Island with two Tadano cranes that can be used for ongoing needs and projects.

Ms. Mogami Yuko works at Hotel Taha Tai on Easter Island. "When the ship carrying the crane arrived on the island, it was broadcast on the island radio 'the Tadano machine is here!'" she said, "Many islanders went to see the unloading of the crane, and when it was completed safely, it was surrounded by many cheers."
Tadano crane delivered to Easter Island to cheers and applause from local residents
"Our island is 4,000 kilometers away from mainland Chile, without any factories here. With a limited variety of vegetables, fruits, and fish we can be self-sufficient. But for other supplies, we have to rely on mainland Chile through air or ship. Air is expensive and limited, so we mostly rely on sea transportation for supplies. The crane is being used for unloading the supplies and cargos, and things like propane gas tanks and vehicles."

"We are grateful," said Ms. Yuko. "Wonderful is the only word we would use to describe it."

Tadano always pursues its management philosophy of "Creation, Contribution Cooperation," and is committed to continue offering products and services that are useful to society. The connection formed with Easter Island is a prime example of the "Tadano social contribution," and the company looks forward to contributing to the lives of the people of the island and to the promotion of tourism and culture in Chile for generations to come.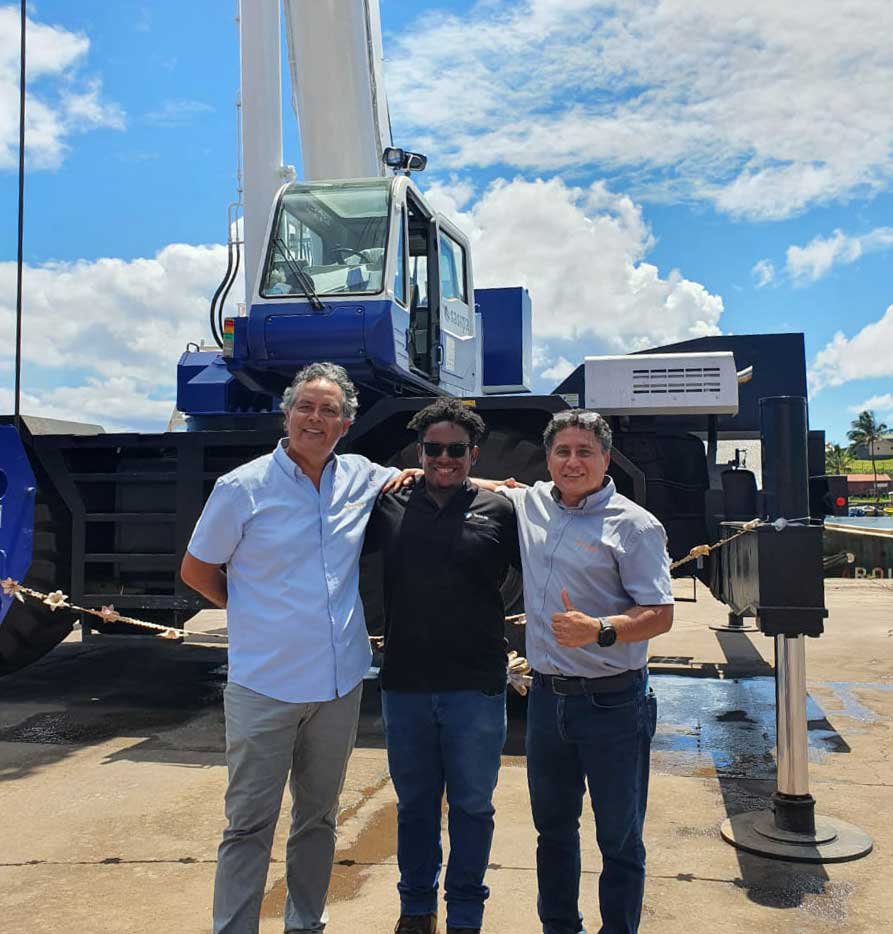 From left to right: Mr. Alberto Hereveri Rojas - Manager of maritime loading and unloading service (SASIPA SpA), Mr. Join Jair Solis Suarez - Service Assistant (TADANO Chile SpA), Mr. Manuel Ponce Barrenechea - Manager of supply and maintenance (SASIPA SpA)
Related topics